Sandbox Tiger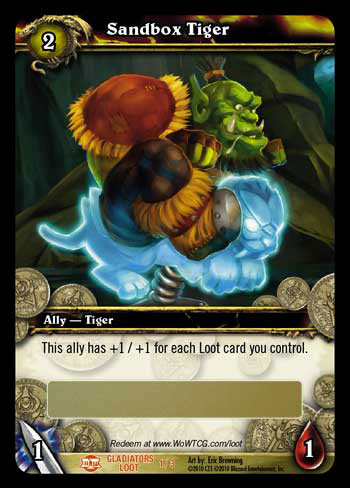 Sandbox Tiger
Binds when picked up

Use: Summons a stationary Sandbox Tiger ride for 3 min. (3 Min Cooldown)
---
Sandbox Tiger
Binds when picked up

Use: Summons a stationary Sandbox Tiger ride for 3 min. (3 Min Cooldown)
Game Facts:
Creates a "Spectral Tiger" vehicle that can be riden by either faction.
Lasts for 3 minutes, with a 3 minute cooldown.
You receive a stack of 50 tigers when you redeem the code. Can stack up to 250.
Is a super-common loot card.
Useable at any level and therefore available for twinks.
Expansion:
Blood of Gladiators
Card:
Sandbox Tiger
Rarity:
1/11 booster packs
Distribution:
Blood of Gladiators
booster boxes contain 24 boosters and cost approx $50 USD (inc. shipping), therefore the average cost of obtaining this particular loot with random chance is $23.00
---