Chat About WoW Loot

Doodlenoodle
#49271 // 3:27am

@Daldain cool thanks for the heads up!

Daldain
#49270 // 2:13am

@Doodlenoodle: I think the confusion in the answer is that UDE codes (9 digits) are no longer able to be redeemed. The actual 25 digit codes that the Blizzard redemption page uses are still usable, and they are the codes we still have available.

Doodlenoodle
#49269 // 11:14pm

Then why would it be selling on here for $599?

vighter
#49268 // 1:41pm

@Doodlenoodle: no you cant anymore

Doodlenoodle
#49267 // 3:33am

Can you still redeem items that required UDE points such as the [carved ogre idol] ? I thought they took their website down awhile a go.

Daldain
#49266 // 5:41pm

@keatsy: Please check your emails.

keatsy
#49265 // 5:02pm

*from this website and tried to redeem it on http://us.battle.net/wow-legacy-code/en/promotion.html

keatsy
#49264 // 9:00am

Hello, I recently purchased a code for [landro's gift box] on http://us.battle.net/wow-legacy-code/en/promotion.html and it's telling me the code is invalid, any help would be appreciated


vighter
#49263 // 10:07pm

@Baravbb: scroll down to contact

Baravbb
#49262 // 7:44pm

where is your contact system?

Daldain
#49261 // 3:07am

@OnurK: Thank you.



OnurK
#49260 // 8:45pm

@NasserNeyadi Click on InstanBuy price , check your purchase history after completing payment. They Select your region and claim your code.

@Rebbon , they aren't saved when you make payment. clear your browser cache and cookies with auto form fill.

NasserNeyadi
#49259 // 1:29pm


Rebbon
#49258 // 3:48pm

How can I delete my account or remove my card/phone associated with it?


OnurK
#49257 // 9:32am

@killars check wow forums , there should be tcg trade topic

killars
#49256 // 3:06am


Daldain
#49255 // 3:46pm


themetamart
#49254 // 2:54pm

Spring Sale!

Spellbooks at 4.95!
Bloats at 7.95!
[Murkablo] slashed down to 129!
Ethereals at 29! Tuskarrs at 19!

vighter
#49253 // 7:04am

@Happs, yes it is.
@leevi, there are no problems afaik

Happs
#49252 // 6:43am


leevi
#49251 // 1:52pm

anyone having a trouble redeeming a code ?

Daldain
#49250 // 6:42am

@Merezul: Ahh, I see we are temporarily out of stock for [Dragon Kite] , we should be getting more very soon.

Daldain
#49249 // 6:41am

@Baravbb: Possibly, please use our contact system and let us know what you are after.

@lonewolf215: There was a small 5 minute delay as we migrated to new servers.

@Merezul: Yes, use our Digital code option to get your code instantly upon successful payment.

Merezul
#49248 // 6:22am

is it possible for me to get a [Dragon Kite] pet with the digital code? Just so I don't gotta wait for the actual card to be mailed?

lonewolf215
#49247 // 4:24am

Im still waiting the authorization Email. How long it takes?

Baravbb
#49246 // 4:56pm

can you remove the weekly limit on my account as I want to buy a mount?


Daldain
#49245 // 6:14pm

@Checkers: [Ogre Pinata] often gets delivered in your in-game mail.

@Tropkilla: If you buy from us digitally then your full loot code will be in your Purchase History with us.

Tropkilla
#49244 // 3:26pm

How do I get the code? By mail or byt the post to my house?

Checkers
#49243 // 11:49pm

Code isn't working for one of the three items I purchased.

Daldain
#49242 // 2:46am

@DaltonGetsinger: Your message via a contact system got your problem resolved, please check your emails.
Loot News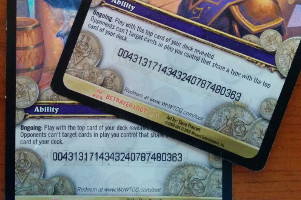 Another problem we face is shown in this photo of duplicate Goblin Weather Machine loot codes. Blizzard / UDE / Cryptozoic had quality control problems when batches of codes were reprinted, usually when boutique products such as Epic Collections or foreign language were made. The vast majority of affected cards were common loot, but we think that is simply because common loot was printed in far greater numbers than the other rarer loot.