Chat About WoW Loot

Cae_
#54257 // 9:16am

hi, are you still buying tcg/ude codes for resell? it is extremely hard to discuss with the admin because replies are months appart. thank you

mia00063
#54256 // 12:45am

Any good mount available for EU? All say "US only"

sweetkatana
#54255 // 1:40am

Daldain came thru for me *happy dance* thank you

Daldain
#54254 // 6:44pm

@sweetkatana: Please check your emails.

sweetkatana
#54253 // 11:35pm

Yes I used it in Dalaran on US. again, neither worked


Daldain
#54252 // 10:18pm

@sweetkatana: If you have any problems, please use our contact system bottom of page.

@Hamad1999: Good tip, enjoy.

Hamad1999
#54251 // 10:14pm

i just bought [stormwind skychaser] and it worked on EU, make sure you select the correct region before redeeming. Thanks !

vighter
#54250 // 6:39pm

@sweetkatana: did you redeem it for your server first?

sweetkatana
#54249 // 4:32pm

I bought the [Dragon Kite] & the [Hippogryph Hatchling] , Landro said neither code is valid. Why?????? I cut & paste code into email to make sure I had it & checked both were typed in correctly. neither worked.

Daldain
#54248 // 10:59pm

@Valkorion222: Thanks for the update.

Valkorion222
#54247 // 9:50pm

nvm
got it

Valkorion222
#54246 // 9:49pm


Daldain
#54245 // 6:00pm

@BeatinCheekz: Only Collector Edition codes will redeem for Classic. No TCG codes.

@Wilda: Thanks for the update.

Wilda
#54244 // 4:38pm

It's ok, a game master give it back to me after a request ! I think it"s due to dragonflight updates

BeatinCheekz
#54243 // 12:31pm

Looking to purchase the [fishing chair] toy for my WOTLK classic account. I'm on US Server Eranikus. Can I get an email with information about this.

Esfenita
#54242 // 6:01am

why i need to have somwthing in my mind? D:

Daldain
#54241 // 7:03pm

@DarkPeanut: If you play on US/EU regions you are good to go. In your case if you can see "United States" in your server tab ("Change Realm") then you will use US region. We have turned off crypto because our provider annoyed us.



DarkPeanut
#54240 // 6:43pm

Hello, how do i know if i can use or redeem a mount in my region? Also i saw an option to pay with Bitcoin(Or maybe just crypto) but couldnt find a way to do it

Daldain
#54239 // 5:59pm

@Wilda: Please check your emails.

@GamerPurchases: Thank you


GamerPurchases
#54238 // 1:34pm

@Exercer Yes it's all above board to buy and claim these items on this site. In 2021 I spent thousands here and I remember Daldain took care of everything if there were any issues (I don't recall any).



Wilda
#54237 // 12:34pm

my [Goblin Weather Machine] that I bought here has not worked for 3 weeks. I still have the toy in my spell bar but grayed out. Resetting the code does not work. Still no info?

Daldain
#54236 // 4:36am

@Tsilas87: I'll get to recent requests shortly.

@Exercer: Yes, completely within the BLizzard ToS - see our help section for more info.

@rozeswoesh00: Yes retail only.


rozeswoesh00
#54235 // 10:49pm


Exercer
#54234 // 9:46pm

Hi guys, I have a stupid question, are all these legal in wow? even digital codes?

Tsilas87
#54233 // 8:15pm

@Daldain good to hear Landro has been put back to work. Have you started buying cards for resell yet?

Daldain
#54232 // 3:59am

@Everyone: Landro and other redemption NPC's are now working, all loot codes are now available for digital purchase.

Daldain
#54231 // 3:58am


josephxp
#54230 // 3:37am

Landro is back in action! I can confirm!!!

josephxp
#54229 // 3:25am

I'll check in a few moments after a event boss, got a few codes to enter. Will update if it goes through


Daldain
#54228 // 1:40am

@Everyone: Looks like Landro is back in action, can anyone else confirm?
Loot News
10th June 2020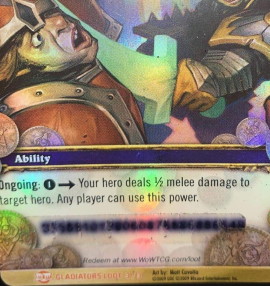 Here is another example of a unclaimed blurry code. If you manage to get this Foam Sword Rack code correct, let us know in chat here. Good luck!