Chat About WoW Loot

Kevke777
#52558 // 10:20am

hello there i guess thats a no that u dont buy the code for [wind rider cub] ^^ is anyone else interestet ? its a code for US and im european ^^


Daldain
#52557 // 6:04am

@jordache2106: Please check your emails.

jordache2106
#52556 // 4:50am


Kevke777
#52555 // 6:20pm

hello there i got a [wind rider cub] code for us but im european can i sell this code on this side ?


Tyrific
#52554 // 5:44am


Daldain
#52553 // 11:50pm

OK, uploaded another unclaimed blurry code

UchihaSatsuki
#52552 // 9:59pm

Hey the blurry code can redeem in EU?

Daldain
#52551 // 1:29am

@MisterCalle: I think PayPal was down/unstable for a little bit there.

MisterCalle
#52550 // 11:07pm

Nevermind x2 haha, I got it safe and sound. Thanks! <3

MisterCalle
#52549 // 10:42pm

Purchase history shows up as empty. Is it because first time purchase?

MisterCalle
#52548 // 10:21pm

nevermind, purchase was possible after waiting

MisterCalle
#52547 // 10:16pm

Hey, im trying to buy with paypal but it just takes me to page and says error. I logged into my paypal to make sure but it still not loading properly


Daldain
#52546 // 4:31pm

@lochlansoutar: Yes, you paid for two different items, but twice for the first (which cost more).

@BrendonL: You should receive an email shortly.

BrendonL
#52545 // 9:50am

I have a [Feldrake] card from back in the day when I usto play the TCG that I never redeemed. Do you guys purchase cards as well?

lochlansoutar
#52544 // 6:09am

Hey , i just got a partial refund from you guys ??? any idea what that's for ?



Daldain
#52543 // 3:54am

@zachmorales023: Yes, Oceania is part of US region effectively.

zachmorales023
#52542 // 1:10am

Do these guys sell to aus?

Serenade
#52541 // 3:05pm

Disregard my last


Serenade
#52540 // 2:50pm

I bought [Finduin] on instant digital, but did not receive the auth email. It is currently pending in my bank account as well.

Juliano1312
#52539 // 12:14am

Hello, i have some problems with my Paypal email can you send it please to my WOW TCG EMAIL?

pantovarnik
#52538 // 4:29pm

It worked, the GM disabled my unclaimed US code and added the pet to my EU collection. Thank you very much zotecs.

pantovarnik
#52537 // 1:09pm

Ah, that's great news. Thank you, I will come back with the offer in case they refuse to switch the region of the code for me.

zotecs
#52536 // 1:06pm

@pantovarnik I had the same happen to me - try making a ticket explaining your situation and you should get a replacement code that works for EU. It took me about a month of back and forth with the GM to get it fixed but in the end it worked out. Hope this helps.

pantovarnik
#52535 // 12:40pm

Hello. I am not sure if this is allowed, so admins feel free to delete this in case it is against the rules. I bought a loot card for [Gryphon Hatchling] (in-game companion given with plush toy that Blizzard used to sell) on eBay. When I tried to redeem it, it told me that it's only valid for US, while I play on EU servers. As I don't have a use for US code, I would like to sell it. But since I already scratched the protective layer, I am afraid to sell it on eBay because I can get scammed easily by the buyer

UchihaSatsuki
#52534 // 5:56pm

Refresh new blurry code please!!

D

Daldain
#52533 // 12:02am

@altair: Yes, you will have the option for either region. Works for both EU & US.

altair
#52532 // 10:40pm


altair
#52531 // 10:39pm


Kudesa
#52530 // 7:43pm

Ok


Daldain
#52529 // 4:54pm

@Kudesa: We have a new one ready to upload.
Loot News
10th June 2020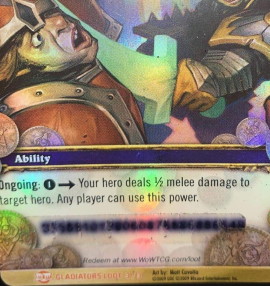 Here is another example of a unclaimed blurry code. If you manage to get this Foam Sword Rack code correct, let us know in chat here. Good luck!