Chat About WoW Loot

venator071421
#50610 // 10:17am

how long does it normaly take to get a reply through the contact form ?


Daldain
#50240 // 11:27pm

@Arlegosa:. Please check your emails, it will tell you which account your code is waiting for you.

Arlegosa
#50239 // 8:59pm

Purchase was charged to my paypal account, but I have no purchase history. It told me it had a conflict with the paypal, so why did it charge it anyway?

Daldain
#50237 // 3:40am

@norvyy: If paying with PayPal, you need to action our authorization email sent to your PayPal email. Otherwise code is available instantly after successful payment.

norvyy
#50236 // 8:41pm

how long does it take tem to send the code after purchasing bois


Daldain
#50235 // 3:00pm

@vyrox: You used our contact system and got your code replaced.

vyrox
#50234 // 1:57pm

is the website dead?


vyrox
#50233 // 12:08pm

I bought tcg pet " [nightsaber cub] " on june 11th, 2018. The code which I was provided was invalid and asked blizzard support to verify if it was valid or not and they confirmed that the code indeed was invalid. What can be done to resolve this?

vyrox
#50232 // 11:03am

can i speak to some admin related to a code problem?

vyrox
#50231 // 8:21am

i have bought a tcg pet but it says the code is invalid. what should i do?

vighter
#50230 // 10:18am

@matteni, please send a message through the contact form

Matteni
#50229 // 8:56am

Execuse me i have a problem with my email, cant resend it anymore so i can accept!


Daldain
#50228 // 3:59am

@poog: They may no longer exist - we had one 2 weeks ago and it sold for nearly $2k USD.

poog
#50227 // 2:34am


vighter
#50226 // 9:17pm

@jwells7710 use the contact formular

jwells7710
#50225 // 8:37pm

how do i speak to someone about a purchase

Daldain
#50224 // 7:31pm

@All:. We have resumed normal operations.

vighter
#50223 // 7:28pm


Daldain
#50222 // 7:26pm

@All, one more confirmation that it's working again and we'll get the digital codes back up.

jrpage4
#50221 // 7:18pm

Seems to be working now. Just tried one and it went through


Daldain
#50220 // 6:49pm

@Shotty:. All the missing codes will come back as soon as Blizzard fixes the redemption page.

jrpage4
#50219 // 6:48pm

Maybe because the issues you see below. Can redeem anything at the moment.

Shotty
#50218 // 6:17pm

or almost anything for that matter


Shotty
#50217 // 6:17pm

why are there no digital codes for pets for sale?


Daldain
#50216 // 4:03pm

@tarta32: We keep the original cards for possible support issues like these. Use our contact system and we can arrange a photo for you


tarta32
#50215 // 3:25pm

@Daldain Blizzard support want a screen or a picture of card to verified this, impossible if you buy a digital card

Daldain
#50214 // 3:19pm

@All: It looks like new redemption is currently down - in the meantime please contact Blizzard support if you need a code to be redeemed.

jrpage4
#50213 // 2:51pm

Getting error on code redemtion


shine1br
#50212 // 1:03pm

This odd error happened a few months ago, it resolved itself within a few hours

catchme257
#50211 // 12:26pm

old codes I used before works , but new codes not

Loot News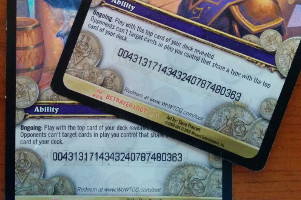 Another problem we face is shown in this photo of duplicate Goblin Weather Machine loot codes. Blizzard / UDE / Cryptozoic had quality control problems when batches of codes were reprinted, usually when boutique products such as Epic Collections or foreign language were made. The vast majority of affected cards were common loot, but we think that is simply because common loot was printed in far greater numbers than the other rarer loot.