Chat About WoW Loot

heewardz
#49328 // 7:10pm


manfire123
#49327 // 3:56pm

Hello, i want to buy 2 things.

Deamon Hunter Aspect (toy)
and the magic ogre toy

but just for 100..is it a deal?

Daldain
#49326 // 1:22am

@wildstyle: Neither, but I thoroughly enjoy both.

wildstyle
#49325 // 7:50am

hey question do you work for blizzard or TCG? @Daldain?


Daldain
#49324 // 2:15am

@demonseeds: We fixed your code as soon as you let us know in "Contact".

demonseeds
#49323 // 12:59am

so i got a code that was already used by someone else

Daldain
#49322 // 5:27pm

@birdlooker: They are waiting for you in your Purchase History with us.

birdlooker
#49321 // 5:20pm

I purchased 3 pet cards and have not received them. They were codes. Where would I find them?


Daldain
#49320 // 4:20am

@blackmagic34: Log out and use our recovery system. You will have to use the email used to create the original account, use our contact system if you cannot remember it.

blackmagic34
#49319 // 3:37am

@Daldain How do I recover my original account? I just.. logged into the same account that I had and it worked, don't see the codes though.

Daldain
#49318 // 1:43am

@blackmagic34: We can see your codes, please recover your original account with us.

vighter
#49317 // 6:38pm

@blackmagic34 your codes are usually stored here:

https://www.wowtcgloot.com/purchase_history.htm

If you dont find it, please use the contact form.

blackmagic34
#49316 // 6:09pm

I bought a [dark portal] hearthstone a year or so back from this site but I never redeemed it.. I can't seem to find the code page. How can I find it?

killars
#49315 // 1:07am

@Daldain: It's just the code and I'm willing to do anything necessary to verify it's legit. The code was given to me as a gift so I don't have the actual card, but rather a picture of it scratched off.

Daldain
#49314 // 12:26am

@killars: If unscratched, please use our contact system and let us know how much you are wanting to get for it.

killars
#49313 // 11:09pm

@Daldain any advice or help you can offer?

killars
#49312 // 10:46pm


Daldain
#49311 // 8:53pm

@Eloss: Have emailed you.

Eloss
#49310 // 8:35pm

for some reason the code isn't working when i put it into the redeem on battle.net. to retrieve the pet it's telling me to put in another code i didn't recieve

Daldain
#49309 // 8:31pm

@Eloss: Instantly, when paying by PayPal just look for our authorization email in your PayPal account email.

Eloss
#49308 // 8:21pm

How long does ti take to get digital stuff?

Daldain
#49307 // 4:59pm

@Lilinn: Yes, it's in our Toy section for digital purchase.

@NasserNeyadi: Add [The Flag of Ownership] item to cart (digital), choose your payment method and make payment, enjoy your item with your code in your Purchase History with us.

@bcsmooth: Enjoy


NasserNeyadi
#49306 // 8:11am

Hello am looking to buy a flag of [ownership] can someone tell me the process

bcsmooth
#49305 // 6:59am

Awesome I got my Tabard thank you guys for helping me with my problem! will definitely use your services again


Lilinn
#49304 // 6:58am


bcsmooth
#49303 // 6:53am

ive entered the code you sent to my email and it still doesn't work please call me so we can figure this out.

Daldain
#49302 // 1:38am

@billy141: Please check your emails.

Daldain
#49301 // 1:38am

@bcsmooth: We have confirmed your code is OK, please enter the security code on the page and press the "Redeem Code" button to receive your in-game code. We have sent you an email with your Landro code anyway.

bcsmooth
#49300 // 12:51am

i don't want to say it. but i feel like i was just scammed.

bcsmooth
#49299 // 12:17am

i purchased a digital code and went to redeem it at the WoW Promotional Code Retrieval Page but it doesn't work. i get an error saying invalid Security Code. ive entered it at least 6 times now and still same error.
Loot News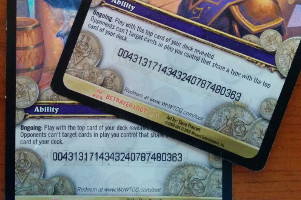 Another problem we face is shown in this photo of duplicate Goblin Weather Machine loot codes. Blizzard / UDE / Cryptozoic had quality control problems when batches of codes were reprinted, usually when boutique products such as Epic Collections or foreign language were made. The vast majority of affected cards were common loot, but we think that is simply because common loot was printed in far greater numbers than the other rarer loot.