Chat About WoW Loot

Boxmartin
#49385 // 7:44am


Daldain
#49384 // 9:16pm


Sourran
#49383 // 6:27pm

creditcard is sit at 1900
paypal at 500
and the mount is for 1999

Sourran
#49382 // 6:27pm

Unavailable Payment Methods

creditcard

paypal

Sourran
#49381 // 6:26pm

Daldain, i cant also as it says it is more than 1900$ i want the [spectral tiger]


Daldain
#49380 // 11:54pm

@Sourran: You can use a credit/debit card too.

vighter
#49379 // 10:11pm

@Sourran you can use the contact formula

Sourran
#49378 // 7:38pm

if the amount is higher than 500$ how can i buy it ! i does not let me

Daemos
#49377 // 3:31pm

nvm i figured it out

thanks anyway


Daemos
#49376 // 3:26pm

Helo i have little problem , i bouth the mount got the promotion code , toke that to the blizzard eu site to rendeem to code and it says, An error has occurred.
The code you entered cannot be claimed. Please check the code and try again.

nick
#49375 // 4:19am

I wish I could afford Vanilla CE <3

nick
#49374 // 4:19am


Daldain
#49373 // 3:20am

@Daemos: Yes, we have [Feldrake] in stock. Upon successful payment for your full loot code is visible in your Purchase History with us.

Daemos
#49372 // 10:10pm

stock*


Daemos
#49371 // 10:09pm

Helo do you have [feldrake] on stack to buy with digital code?
and how does that work, it shows the full code after buying it?


Daldain
#49370 // 2:35am

@CptPinkeye: Yes, look for them here:
https://www.wowtcgloot.com/wow_vanilla_collectors_edition.htm

Upon successful payment, you will be supplied with a 26 alphanumeric code which you will put into your BattleNet account website. Typically in less than a few minutes you will have all 3 [pets in your mailbox] on every character on that account.

No silly account merging required, this is a true code as if directly from a freshly opened Vanilal CE box.

CptPinkeye
#49369 // 4:34pm

Do you have the trio of WoW CE pets available? (panda/zergling/diablo). If so then could you provide details of how these are given once purchased?

Daldain
#49368 // 3:18pm

@charmstrike: I think we have fixed it now?

charmstrike
#49367 // 9:20pm

You are advertising a [Murky] but that is not the pet he wants to sell. Please change the attachment to Legendary.

themetamart
#49366 // 5:16pm


vighter
#49365 // 2:16pm

@Gryphaaa: 100%


Gryphaaa
#49364 // 4:37am


Daldain
#49363 // 2:58am

@Tyroximus: Check your emails.

Tyroximus
#49362 // 9:22pm

Just bout an [epic purple shirt] but when i click purchase history i get a blank page? Help pls

Christian200
#49361 // 9:03am


Daldain
#49360 // 11:18pm

@Christian200: Add to cart, press payment method, make payment, get codes. That's how it works here, not sure if it can get any easier.

Daldain
#49359 // 11:01pm

@Katongo: Yes, but down to the last handful and they are getting expensive.

Christian200
#49358 // 2:04pm

Is there a easy Way to get codes?

Katongo
#49357 // 11:08am


Daldain
#49356 // 12:44pm

@Lont: Please check your emails.
Loot News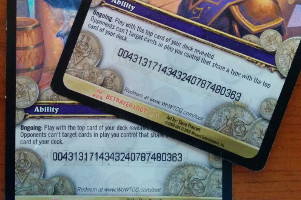 Another problem we face is shown in this photo of duplicate Goblin Weather Machine loot codes. Blizzard / UDE / Cryptozoic had quality control problems when batches of codes were reprinted, usually when boutique products such as Epic Collections or foreign language were made. The vast majority of affected cards were common loot, but we think that is simply because common loot was printed in far greater numbers than the other rarer loot.