Chat About WoW Loot

Daldain
#52494 // 4:35am

@Edzea: Yep, refunds on cards usually take 3 - 5 bank days to return to card statement.

Edzea
#52493 // 2:57am

nvm checked my email and get a refund, but still on process i think

Edzea
#52492 // 2:09am

my account has been charged 3x, first i paid cimb, got rejected, then paypal, rejected again, then my bca creditcard, finally a success, but 2 of them who got rejected earlier get charged too, can you do something about the paypal and the cimb cc? i bought [tabard of flame] , and only 1 [tabard of flame]

dertox
#52491 // 4:29pm

Just wanna take a minute to thank the amazing staff team on here!. Had some problems with one of my codes and they sorted it out in less than 5 minutes, keep up the great work!

dacodahackney
#52490 // 6:08pm


Daldain
#52489 // 2:34am

@Altatari: Please use our contact system.

Altatari
#52488 // 2:15am

Hi, Just bought 2x [Nightsaber cub]s and 1x of the codes when given to Landro isn't working.

KrymZZ
#52487 // 9:12am

Update, relogg fixed it


KrymZZ
#52486 // 9:02am

Hello, i haven't had any problems with codes that i bought before, but the last two i cannot redeem for some reason. Please help


Ziachko
#52485 // 11:09pm

Hey, I'm trying to purchase a code but it keeps asking me to authorise my account and every time I do it asks me to do it again..

Daldain
#52484 // 3:00pm

@ammy91: Thanks, we have removed that listing - some people sell the strangest stuff.

Daldain
#52483 // 2:44pm

@Altheric: Looks like you found our email and finally replied - you have two accounts with us - going to merge them now - you will receive an email back shortly.

Altheric
#52482 // 11:45am

Yeah mate, I have



shine1br
#52481 // 11:20am

@Altheric have you used the contact/help link? Chat isn't monitored as much as customer support email.

Altheric
#52480 // 8:31am

I have purchased a [Party Grenade] to test out if that would work, which it did. It's in my purchase history. I have full proof of purchase of the [Tabard of Flame] . All the invoice details and what not. So why is my Tabard not there?!


Altheric
#52479 // 8:17am

@Daldain: I have replied to the emails and have received the invoice, But I still have the same issue. I do not have a 25 digit loot code in my purchase history. In my latest email I have replied with a screenshot of my purchase history, with there being no code, nor any information about my purchase. My invoice number is 154,858. Please help sort this out.


ammy91
#52478 // 3:52am

the [sand scarab] link you have for ebay is for a used card with a non working code btw


Daldain
#52477 // 12:23am

@ba7riq8: Click your username on top right of website - go to Purchase History - or click on empty cart to see link to Purchase History.

ba7riq8
#52476 // 11:26pm

hello @daldain , i just bought the a tcg tabard and i accepted the email for confirmation but still i didn't receive the code for the tabard

Daldain
#52475 // 9:54pm

@kate: Please let us know via our "contact" system, supply your region + server you wish to redeem to.

kate
#52474 // 8:19pm

ça me dit que le code est invalide

Daldain
#52473 // 5:27pm

@Altheric: We emailed you soon after receiving your contact - please check the email address supplied to make the contact.

@ba7riq8: You will have the full code waiting for you in your Purchase History with us immediately after successful payment.

ba7riq8
#52472 // 2:43pm

hi , when can i have the item if i buy it ? whill someone whisper me the code or u guys email it to me ?

Altheric
#52471 // 10:47am

@Daldain: Please help me resolve my issue, I can show statements regarding my purchase. It's been 10ish hours since my purchase, I have yet to receive the code. Support would be very helpful. I have also emailed the contact with no reply from them either. Can someone please just help me out, it's getting really annoying..


Altheric
#52470 // 10:23am

Still have not received my code, please help..


Altheric
#52469 // 8:54am


Altheric
#52468 // 7:38am

I have statements from my bank to show that I've bought the item. I just have no code.. Anything would be appreciated..





Altheric
#52467 // 5:07am

Somebody, please help!


Altheric
#52466 // 1:56am

@Daldain you seem to be higher up. Can you please help me? Regarding to my last post?


Altheric
#52465 // 1:39am

I just bought my [Tabard of Flame] , but I haven't gotten my code, even in my Purchase history there's nothing there. Please help, thank you!
Loot News
10th June 2020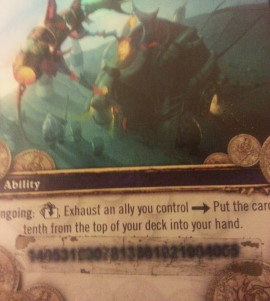 Here is another example of a unclaimed blurry code. If you manage to get this Tuskarr Kite code correct, let us know in chat here. Good luck!