Chat About WoW Loot

Lamen
#49545 // 12:24pm

Nvm, i now understand How IT works


Lamen
#49544 // 12:07pm

Hello! I just bought 3 pets. How long until i get the codes on my mail?


Daldain
#49543 // 5:18am

@Moriat: No we do not use gold currency in any way.

Moriat
#49542 // 7:37am

do you guys sell the tabards fro in game gold? This guy is trying to sell me tabard of the [flame] for 150k


Mastir
#49541 // 7:49am

security code not working when i type it in


Daldain
#49540 // 10:12pm

@zxane416: We replaced your code, please check your emails.

zxane416
#49539 // 12:20am

i tried to redeem code bought jus a moment ago and when i pick realm/region n fill it out says code not valid could there be a reason why it is now working , always has in the past

Daldain
#49538 // 6:03pm

@SycloG59: PayPal must not like something, try using direct card.

@HenrikValder: We have fully refunded that payment.

HenrikValder
#49537 // 5:34pm

Two payments went trough, but I can only claim one [landros gift] ... please help me

SycloG59
#49536 // 7:44am

I am trying to buy a flag of [ownership] and it says I can't purchase it right now on paypal and tells me to try a different way of paying

Daldain
#49535 // 1:34am

@Spacewow: Not for digital at this time


Spacewow
#49534 // 12:49am


Spacewow
#49533 // 12:49am

Are there any roosters in stock?

eatingbrains
#49532 // 9:11pm

nvm


eatingbrains
#49531 // 9:10pm

is there a way to get 0.39$ discount lol?

Daldain
#49530 // 11:42pm


jakobmsms
#49529 // 9:50pm


Daldain
#49528 // 4:21am

@jhesse: Looks like you got it as you acted on it


jhesse
#49527 // 3:48am


Daldain
#49526 // 12:59am

@Warcrafter:. Please email us back with your region and server you are trying to redeem to, we'll fix the code for you.

Warcrafter
#49525 // 3:58am

Checked it and the other code is not valid either


Daldain
#49524 // 1:24am

@Warcrafter:. Please check your emails.

Warcrafter
#49523 // 8:45pm

I bought a code today and after I authorized it and tried to redeem it it said the code is not valid

Daldain
#49522 // 2:37pm

@lethaldruid & @thearthurusrex: If you used our contact system (not chat) then your problem should now be solved, check your emails.

thearthurusrex
#49521 // 12:13am


lethaldruid
#49520 // 2:01am

hi there, I am trying to redeem loot and saying code is not valid.


Daldain
#49519 // 2:56pm

@ortholomus: Please check your email.

ortholomus
#49518 // 2:19am

I got a code that has already been redeemed. I opened a contact ticket.

Daldain
#49517 // 9:51pm

@uniquemarka:. EU only at this time.

uniquemarka
#49516 // 8:24pm

hi all
the vanilla CE is it Europe or us version
Loot News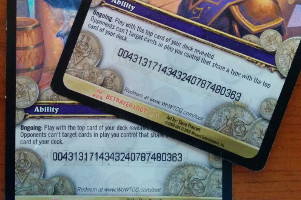 Another problem we face is shown in this photo of duplicate Goblin Weather Machine loot codes. Blizzard / UDE / Cryptozoic had quality control problems when batches of codes were reprinted, usually when boutique products such as Epic Collections or foreign language were made. The vast majority of affected cards were common loot, but we think that is simply because common loot was printed in far greater numbers than the other rarer loot.