Chat About WoW Loot

onche58
#51553 // 4:18pm

Thx Daldain i had my new code !


Daldain
#51552 // 3:25pm

@onche58: Please use our contact system ,we'll make sure it's worked out there. Sorry for the confusion!

onche58
#51551 // 2:54pm

so you gave me a code already used


onche58
#51550 // 2:52pm


onche58
#51549 // 2:50pm

hello i have problem ( it's only for 1$ but still ) i can't activate my code , it say's " Your code has already been redeemed for a promotional item on the realm "Die Arguswacht" (Europe). Here is your in-game code. Please write this down or print it out, and then visit the appropriate NPC in-game to claim your item on your character " but it's not me or my server

socymlkira
#51548 // 3:55am


Daldain
#51547 // 5:32am

@Bambz89: Please check your emails.

Bambz89
#51546 // 9:27pm

Hello, I bought an item that is invalid. Was hoping to get a new code?


jeber
#51545 // 6:50pm

Hello,

Do you restock your items by buying from anyone or do you go about it some other way?
I have a unscratched magic rooster in a sleeve that I want to get rid of.

Thanks

cuckrider
#51544 // 4:41am

How do i go about selling a code on a card?

ghostieemeat
#51543 // 6:59pm

how do you guys obtain the codes? Can i sell my unscratched codes here?

Daldain
#51542 // 3:37pm

@Anthony23: Yes, adding a CE version of an xpac to the normal xpac on an account is done trouble free. Nothing special about doing that, simply go to your BattleNet account and add the CE code.

Anthony23
#51541 // 11:44am

@Daldain: Hi. Yes but if you already have an account without a CE, for example a normal BC expansion, can you add a CE BC to your account? Or do you need to start a new account?

Daldain
#51540 // 5:44pm

@Anthony23: You can add CE codes to an existing account. Not sure what you are asking? With CE, region does matter, you need a US code for US accounts etc. We take care of this automatically for you.

Anthony23
#51538 // 11:06am

No reply here but just for anyone else wondering; reading on forums the response seems to be that you cannot add a WoW Collectors Edition to an already upgraded account.

n3rd5tuf
#51537 // 6:42pm

@assbringer: these are selling at a decent pace. As our inventory goes down, prices must increase. The inventory is at a level where we can offer this price for several more units. After these sell, the next batch will be higher. The current price is the lowest they've been offered in well over a year.


assbringer
#51536 // 6:27pm


Anthony23
#51535 // 1:27pm

Just in regards to Collectors Edition xpacs. Can you still get pets on your normal account or would you need to start a completely new account?

Also is there a difference between EU and US codes or has this been cut away?

Thanks in advance for any help.

shine1br
#51534 // 1:29am

@3ncrypt3d_cod3s - very hard to tell, from trusted wow sellers should be fine, but older packs were weighed frequently and could easily be searched.


3ncrypt3d_cod3s
#51533 // 12:40am

I see people selling 24 booster packs that are loose (outside of the booster box). Now, excluding the usual risk of tampering, are the loose packs from someone hitting a rare loot card early and putting the remaining packs aside, or is it still possible for someone to get multiple mount loot cards in a single booster box? What I'm trying to ask is this: are my chances still just as good at finding a rare loot card in a loose booster pack? Or should I stick to sealed booster boxes for better odds?

Daldain
#51532 // 4:00pm

@Mrsaco: Please check your emails if you used our contact system.

exzoticx
#51531 // 9:27pm

my dream have [ [Reins of the Swift Spectral Tiger] ] and i know it will keep dream forever


Mrsaco
#51530 // 5:04pm

paid for 3 lando's loot, 2 of the codes where fine but the third code is invalid when trying to redeem on the promotion code website.

TgcOwl
#51529 // 1:48pm

I think I figured it out thanks!!!

TgcOwl
#51528 // 1:32pm

I Just recently purchased [Path of Illidan] and my code is not working for me, any help would be great!

Daldain
#51527 // 1:01am

@Darkkenon: No problem, thanks for your patience and accurate contact!

Darkkenon
#51526 // 10:20pm

These guys are the best. They helped me fast and even made sure I didn't double purchase! 10/10.

Darkkenon1993
#51525 // 11:32am

@Daldain so I just bought a few codes and one says invalid? I looked around and clicked a link that mentions it but it's for ingame issues. Also I tried to buy [Fool's Gold] and the [Dark Portal] after. But while it took money from my account it said payment failed? As well as charging me twice for [Fool's Gold] when I only wanted one. This is all on my main account just Darkkenon. I made this one because it wouldn't let me chat.

Daldain
#51524 // 4:52am


3ncrypt3d_cod3s
#51523 // 12:08am

Enter it here: https://us.battle.net/wow-legacy-code/en/

Then after that you will get another code. Write this new code down. With the new code you will enter it with an in-game character. Which character depends on the item you bought and whether you're Horde or Alliance. Google it for more info.
Loot News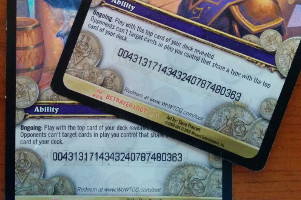 Another problem we face is shown in this photo of duplicate Goblin Weather Machine loot codes. Blizzard / UDE / Cryptozoic had quality control problems when batches of codes were reprinted, usually when boutique products such as Epic Collections or foreign language were made. The vast majority of affected cards were common loot, but we think that is simply because common loot was printed in far greater numbers than the other rarer loot.