Chat About WoW Loot

Daldain
#49897 // 2:14am

@Zhorak: Please check your emails.

@Lassie: Thanks for letting us know.

Lassie
#49896 // 11:22pm

oke, scrap prev. comment : the most recent is added on top of history, not in the bottom ... could redeem 3rd - problem solved


Lassie
#49895 // 11:18pm

bought 3 grimoures, could redeem the first 2, not the 3rd one ? please any help on it ?


Zhorak
#49894 // 7:24pm

"Coulden't validate code"*


Zhorak
#49893 // 7:22pm

Hey, I purchased a [tabard of frost] but I am not able to claim it? "can't validate code"


Zhorak
#49892 // 3:40pm

Is there any reason you can not pay for orders bigger than 500 $ with PayPal? I don't feel as safe paying with debit


OnurK
#49891 // 1:35am

@Feshay: You can redeem it on any realm/server by choosing it Europe then enter realm.

feshay
#49890 // 9:35pm


Head
#49889 // 2:37am

@Daldain: Thank you very much, I shall try not to break it again

Daldain
#49888 // 2:03am

@Head: Please check your email.

Head
#49887 // 12:53am

Hi, I purchased [ [Eye of the Legion] ] Loot Code but I screwed up somewhere, it does not show up in purchase history and I can't see the code.

Daldain
#49886 // 3:33am

@rezi: Please check your emails.

@Tewix97: We know, it's annoying that Bitcoin is not available. We hope to have it back available very soon as we are actively working on it.

Tewix97
#49885 // 2:47pm

How do I pay with Bitcoin? It says in the "Help" section that I can do it, but there's no option to pay with it

rezi
#49884 // 1:37am

u guys give me wrong incorrect code

Bcalabrese87
#49883 // 5:18pm

Got a replacement. Just took 3 times but glad you guys did will replace if it doesn't work!

Daldain
#49882 // 5:17pm

@Bcalabrese87, @rjocoy6313, @smoke: Please check your emails.

Bcalabrese87
#49881 // 3:31pm

So 2 of 3 the pets I bought worked. Messaged about the 1 that didn't so you guys send me a new code. Yet that code is already claimed on another server and now no one is respnding to my emails...

rjocoy6313
#49880 // 11:42am

Hello, I purchased a [big blizzard bear] from you guys and you sent me an invalid code. No I am not entering it incorrectly, and I am using the correct websites and information. Please fix this issue and send me a new code immediately.

smoke
#49879 // 5:00am

hi my payment was rejected i had money in my wallet and it withdrew reason is i had other account i forgot about how can i fix that ?

Daldain
#49878 // 2:42am

@Bcalabrese87: Please check your emails.

@devilshlol: Yes.

devilshlol
#49877 // 8:00pm


Bcalabrese87
#49876 // 7:50pm


Bcalabrese87
#49875 // 6:55pm

Everything is still in my cart but payment came out of bank

Bcalabrese87
#49874 // 6:54pm

So I jus bought a few pets. Paid thru PayPal and never got the codes...

cesarleo
#49873 // 5:56pm

hoal como puedo comprar es seguro ?


Wakeyhd
#49872 // 12:14am

EDIT: Purchase complete, I fucking love you guys

Wakeyhd
#49871 // 12:07am

I just tried to purcahse the [Corrupted Hippogryph] , I selected my card on paypal but the payment doesnt seem to go through, no error message, just when i press pay now, nothing happens, tried a second time still nothing, please help

Daldain
#49870 // 7:01pm

@kanobbk: As soon as successful payment is made.

Daldain
#49869 // 6:46pm

@kanobbk: As soon as successful is made.

kanobbk
#49868 // 11:09am

How long would it take to receive my Digital code?
Loot News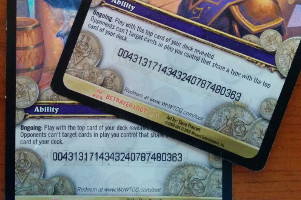 Another problem we face is shown in this photo of duplicate Goblin Weather Machine loot codes. Blizzard / UDE / Cryptozoic had quality control problems when batches of codes were reprinted, usually when boutique products such as Epic Collections or foreign language were made. The vast majority of affected cards were common loot, but we think that is simply because common loot was printed in far greater numbers than the other rarer loot.