Chat About WoW Loot

Daldain
#49680 // 2:36am

@trunex: We helped you fix that once you used our contact system.

@seja: It looks like your card supports 3DSecure, but the auth failed?

seja
#49679 // 9:06pm

Hey can I buy the felldrake in 2 times can't do it with visa only paypall


trunex
#49678 // 8:11pm

Hi, recently purchased instant delivery " [sand scarab] " and " [eye of the legion] " paid through paypal, they are still in my checkout list and I have not received the codes

Daldain
#49677 // 5:51pm

@Jaddd:. Please check your emails.

Jaddd
#49676 // 5:17pm

Sent an email through the contact form since I need to go offline now.

Jaddd
#49675 // 4:36pm

Possible to get a refund? Or a working code?

Jaddd
#49674 // 4:25pm

I got invalid code error too. https://dl.dropboxusercontent.com/s/pj4xpof44e6kfnf/2017-11-18_02-25-00_b3f79a9a-5754-49e1-ae0c-2ec6026047da.png

Daldain
#49673 // 3:56pm

@Untouchable:. For some reason a very small percentage of people cannot proceed past the security input, we are not sure why. It appears you eventually got through.

Untouchable
#49672 // 1:49pm

I tried the code on battle.net and it says it's invalid as well. https://us.battle.net/account/management/claim-code.html

Untouchable
#49671 // 1:09pm

I have purchased a code and tried the security input on the redeem website 21 times and it keeps saying incorrect.

Daldain
#49670 // 3:42am

@Tamashi: Ugh, more surgery. As long as it helps then I suppose you have to live with that. What did you enjoy in Bahrain?

Daldain
#49669 // 3:42am


Daldain
#49668 // 3:00am

@Kuzahftw: They are very difficult to find - probably but won't be cheap.

Kuzahftw
#49667 // 12:08am

Will Magic Rooster ever be on instant delivery option?


Tamashi
#49666 // 10:09am

Been to Bahrain for 3 months, flew back for surgery in Belgium and now I''m recovering home until I';'m allowed to fly again, which won't be the case for about two more months.

Daldain
#49665 // 2:18am

Hi Tamashi, yep it has been a while. Anything new with you?

Tamashi
#49664 // 11:32pm

That's been a while. Hi everyone.

Daldain
#49663 // 4:11pm

@Elation: Fixed, please check your Purchase History.

Elation
#49662 // 12:56pm

hey my payment has gone through for [gusting grimoire] but theres still nothing in my purchase history, could you send the code by email or something?


Daldain
#49661 // 3:23am

@ThePinkDarkness: Please use our contact system, we can sort it out via email. Supply information on her account if possible.

ThePinkDarkness
#49660 // 8:33pm

I'm unable to use my cc to pay for stuff on this acc because I used it once on my fiances account on this site, help please?

Daldain
#49659 // 5:17am

@lindajshort: Our "help" section can answer your question fully.

lindajshort
#49658 // 11:34pm

where do I redeem my card at


Elation
#49657 // 4:15pm

bought a [gusting grimoire] and accepted the payment on my email but theres no code and nothing showing on my purchase history. Help would be appreciated, thanks


Daldain
#49656 // 5:44pm

@Niixten: Yep, sometimes codes are very blurry and copied incorrectly. We replace as soon as we hear about it in contact.

Niixten
#49655 // 4:08pm

Got email from your support, it's all good, thanks


Niixten
#49654 // 2:39pm

I contacted blizzard and they said that code did not even exist so you must sent me a wrong code

Niixten
#49653 // 1:20pm

This code is not valid. Please verify your code and try again. you sold me a used code?

Daldain
#49652 // 5:33pm

@Sensei: Instant upon successful payment with us.

Sensei
#49651 // 6:18am

if i purchase something, how long till i receive the code ?

Loot News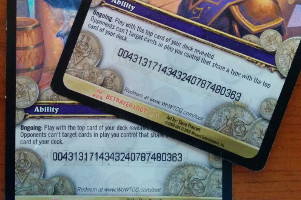 Another problem we face is shown in this photo of duplicate Goblin Weather Machine loot codes. Blizzard / UDE / Cryptozoic had quality control problems when batches of codes were reprinted, usually when boutique products such as Epic Collections or foreign language were made. The vast majority of affected cards were common loot, but we think that is simply because common loot was printed in far greater numbers than the other rarer loot.