Chat About WoW Loot

Daldain
#51479 // 3:38am

@cmo55: Please use our contact system and supply information, we'll take a look.

cmo55
#51478 // 7:34pm

Legacy WoW page telling me that my security imput is incorrect, after double checking. Then once past that issue, telling me i have an invalid code. Its for [defender tabard]

vighter
#51477 // 8:54pm


Daldain
#51476 // 5:49am

@zookernopheles: Can you choose another payment method?

@Silversss: Add item(s) to cart, make payment, codes are then waiting in your Purchase History with us.

Silversss
#51475 // 2:07am

Hello. By Buying Digital Code, how does this work??

zookernopheles
#51474 // 3:39am

good morning, i am trying to pay for goods and there is no credit card option. it states at the bottom of the screen that "the monthly credit card limit has been reached"? please let me know, i would like to complete my next purchase.

Daldain
#51473 // 8:09pm

@q8stinky: Thanks for pointing that out, I'll get to fixing that soon

@rmp: That is not our account, but you can ask seller about their delivery options

rmp
#51472 // 5:37pm

There are ebay listings from tcgloots on ebay for the [Tabard of Flame] for 20$.
Is that your ebay account and if yes, is that only code or card sent by mail?

vighter
#51471 // 7:05am

@q8stinky: thats just a mistake from the system which picked the wrong ebay listing.

q8stinky
#51470 // 10:24pm

why [ [Ownership] ] price soo much as code and by mail is cheaper ?

q8stinky
#51469 // 10:24pm

hi , how are you ? long time no see hehe


vighter
#51468 // 8:42pm


siyapari2000
#51467 // 7:26pm


siyapari2000
#51466 // 7:25pm

Hello


Daldain
#51465 // 2:54pm

cmo55: Not sure, where did that code come from?

cmo55
#51464 // 2:11am

Trying to redeem Flag of [Ownership] code at booty bay, telling me it is invalid. I have tried the legacy wow site along with just redeemed it at landro, still nothing.

Daldain
#51463 // 4:53pm

@holyflamez: Please check your emails.

holyflamez
#51462 // 12:34pm

had a code that doesnt work whats the plan to deal with that?


vighter
#51461 // 8:57am

@Plexi: yes - if paying through PayPal look for our authorization email.

Plexi
#51460 // 7:39am

Hola , cuando haces una compra te da el codigo al momento?

Daldain
#51459 // 3:15am

@Whatabootbob: No date yet for any new [Tabard of Frost]

@Qben: Instantly upon successful payment, if paying through PayPal look for our authorization email.

@canesville11: It appears your card issuer is declining, please ensure to follow all instructions (if any) during the payment. Sometimes banks will ask you to call during processing. If all fails, contact your bank via number on back of card and tell them you are trying to make a payment to us.

canesville11
#51458 // 5:32pm

my card gets declined because of 3d secure? what is that? i cant find anywhere on my card website where i can change or approve that feature

Qben
#51457 // 3:58pm

Im a first timer, Approximately how long it takes for a code to be sent to the email?


Whatabootbob
#51456 // 11:40am


Daldain
#51455 // 2:45am

@why420: Yes, look in our toys section.

why420
#51454 // 10:40pm


Daldain
#51453 // 4:59pm

@hig227:. Looking into your problem now.

Daldain
#51452 // 4:56pm

@hig227:. Please use our contact system if you haven't already, be sure to supply your region and realm so we can check.

hig227
#51451 // 4:04pm

My [spectral tiger] code didnt work. Is it because i redeemed it too late and didnt do it emediatly? Thank you

nick
#51450 // 10:25pm

it is now back on sale

Loot News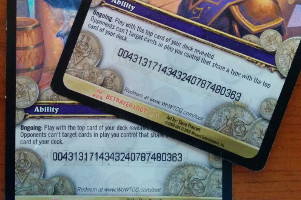 Another problem we face is shown in this photo of duplicate Goblin Weather Machine loot codes. Blizzard / UDE / Cryptozoic had quality control problems when batches of codes were reprinted, usually when boutique products such as Epic Collections or foreign language were made. The vast majority of affected cards were common loot, but we think that is simply because common loot was printed in far greater numbers than the other rarer loot.