Chat About WoW Loot

Daldain
#49482 // 2:55pm

@mafiotzi: Please check your email, we replied to your contact.

mafiotzi
#49481 // 5:11pm

I just purchased a battle pet, received the mail and clicked the authorization. The item doesn't appear in my purchase history and I can'r redeem it. Any help?

barav
#49480 // 2:09pm

I want to buy the [big blizzard bear] but it says daily limit reached and I haven't ever bought anything

yeman
#49479 // 1:42pm


Daldain
#49478 // 4:08am

@erosgost: OK, please sure to use our contact system for quicker support, it'll also ask for region + server which helps us.

erosgost
#49477 // 9:46pm

Okay, just tried the second code--this freshly scratched code according to my email--and that too says it's invalid.


Daldain
#49476 // 1:30am

@erosgost: Please check your email.

erosgost
#49475 // 4:55pm


Daldain
#49474 // 3:01am

@Aleandil: Choose another payment option, it should allow you to pay.

@Thuglife99: We are continuing to search for a source of [Magic Rooster Egg] , so far without success.

Thuglife99
#49473 // 1:10am


Aleandil
#49472 // 12:38am

Can i get my Paypal Limits increased to buy premium Cards?

Daldain
#49471 // 3:38pm

@ jonaslorenzen12: Please check your email


jonaslorenzen12
#49470 // 3:01pm

Hey,
I have this problem, its says this about my code: This code is not valid. Please verify your code and try again.

Daldain
#49469 // 5:09pm

@Dishguy: please check your email.

Dishguy
#49468 // 9:34pm

i bought a [eye of the legion] and didnt get a code after clicking the email. sent in an email and havent gotten a response...its been over a week. ideas?

Daldain
#49467 // 1:57pm

@Brugden:. Please check your email.

Brugden
#49466 // 9:34am

Why doesn't my purchases show up under my account?

Daldain
#49465 // 3:29pm

@xasma: We sorted it out via email.

Daldain
#49464 // 3:28pm

@wstephens3411: Please log out and use our recovery system, your old account matches your email address so use that email to recover.

xasma
#49463 // 9:20pm

@Daldain I sent you a reply. The new code didn't work either. Thanks


wstephens3411
#49462 // 9:08pm

Yo, so i had bought something on here forever ago. Came back to buy something else and i forgot my username/password/email.. So, i made a new account and it wont let me purchase because i am using the same credit card. Please help.

Daldain
#49461 // 1:45am

@Aireenz: The prices are clearly marked, although currently we only have EU codes in stock. Our codes are only for the pet(s).



Aireenz
#49460 // 9:54pm


Daldain
#49459 // 3:57am

@xasma: Please check your emails.

xasma
#49458 // 11:12pm

I just bought the [Tiny] mount and the code is invalid. Who do I need to speak with?

Jaimy
#49457 // 10:15pm


Andyd283
#49456 // 7:56pm


stormyb
#49455 // 7:45am

Any magic rooster digital codes coming up?

Daldain
#49454 // 3:25pm

@SirFran: Ours are EU only.

yeman
#49453 // 1:36pm

Loot News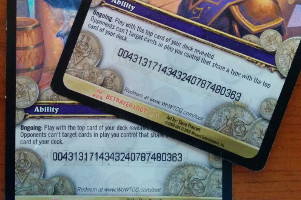 Another problem we face is shown in this photo of duplicate Goblin Weather Machine loot codes. Blizzard / UDE / Cryptozoic had quality control problems when batches of codes were reprinted, usually when boutique products such as Epic Collections or foreign language were made. The vast majority of affected cards were common loot, but we think that is simply because common loot was printed in far greater numbers than the other rarer loot.