Chat About WoW Loot

Cindicate
#49588 // 6:38am


Daldain
#49587 // 10:44pm

@strixon: Yes, in stock.

@aseur: You did the right thing and used our contact system in our footer.

aseur
#49586 // 7:38pm

hello i bought a few pets and one doesnt work


strixon
#49585 // 1:32pm


Daldain
#49584 // 10:00pm

@Milo1999: Have spoken to supplier, looks like we will be out indefinitely. Not sure we can find more, but we will try.

Daldain
#49583 // 1:45am

@mosquitob77: Please check your emails.

@towelliee: Not sure, most cards seem OK with the 3DSecure system...

towelliee
#49582 // 1:03am

Hi i enter my card information and says failed to go through 3dsecure but i called my cc company and they say nothing is wrong?


mosquitob77
#49581 // 4:17am

Hi, I recently purchased a" [The Flag of Ownership] " and followed the instructions for redemption. Unfortunately, it says that my code has already been redeemed? How can that be?

Daldain
#49580 // 3:26am

@LanzerSA: Please use our contact system in footer, list items you have.

Daldain
#49579 // 3:25am

@Milo1999: We are looking for more right now...

Milo1999
#49578 // 10:46pm


LanzerSA
#49577 // 7:27am

Hi. How do I go about selling cards to the website

vighter
#49576 // 8:35pm

@Lundeh: the collectors editions are EU only. all other codes are EU and US

Lundeh
#49575 // 3:58pm


tonytony
#49574 // 11:16am

under mounts / [white riding camel] / when i click on it to buy on ebay it becomes wasteland strider

Daldain
#49573 // 2:11am

@nikocoppi: Please ensure to follow the correct redemption process. If you continue to have problems please use our contact system below.

nikocoppi
#49572 // 5:35pm

Hi, I have a problem. I am in Lando and when I try to validate my code it says if impossible to validate this code.

kylecronkright
#49571 // 8:23pm

@Daldain I got the new code and redeemed it without an issue! Thank you so much!

Daldain
#49570 // 7:17pm

@Crupes: Decide how fast you want your mount, digital is almost instant, by mail is through the postman. If digital, add to cart, make successful payment and your full promotion code will be waiting for you in your Purchase History with us. Complete the redemption process and voila, you have your mount.

Daldain
#49569 // 7:16pm

@kylecronkright: Some of those codes are very blurry which causes that problem. Please check your emails for information on your replacement.

Crupes
#49568 // 3:13pm

Hello! im new here how does it work if i example wanna buy a mount what do i do?

Daxi
#49567 // 7:53am

nvm, started working thanks.

Daxi
#49566 // 7:42am


Daxi
#49565 // 7:37am

just ordered a few pets and none of the codes work!? ive ordered in the past and everythings worked?



kylecronkright
#49564 // 5:38am

For the US realm, I should clarify.

kylecronkright
#49563 // 5:37am

I just purchased a digital code for a [Foam Sword Rack] , but when I try to redeem the code on the Blizzard Redemption website, it says that the code is not valid. What do I do?

Sweez
#49562 // 2:36am

@Daldain thanks for making this clear to me.


Daldain
#49561 // 6:19pm

@HundKex:. You did the right thing and used our contact system

HundKex
#49560 // 7:21pm

Tried to redeem a Fel Drake and it didnt work. What could be wrong?

FairyDuel
#49559 // 10:44pm

Loot News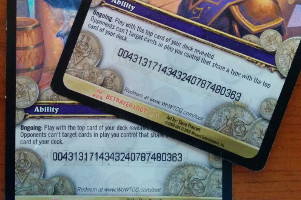 Another problem we face is shown in this photo of duplicate Goblin Weather Machine loot codes. Blizzard / UDE / Cryptozoic had quality control problems when batches of codes were reprinted, usually when boutique products such as Epic Collections or foreign language were made. The vast majority of affected cards were common loot, but we think that is simply because common loot was printed in far greater numbers than the other rarer loot.