Chat About WoW Loot

Daldain
#51271 // 2:38am

Looks like redemption problem has been fixed.

Daldain
#51270 // 4:28pm

In case anyone is have redemption problems:
https://us.forums.blizzard.com/en/wow/t/tcg-redemption-website-broken/159359

Daldain
#51269 // 7:35pm

Added all missing BlizzCon loots - look for them in Mounts, Pets, and Toys.

Daldain
#51268 // 3:55am

@Effendx: Please make sure to fully read instructions your bank asks (if any) when you submit your information.



Effendx
#51267 // 12:59pm

Your payment has failed. Reason: Payment attempt did not fully honor 3DSecure

when trying to pay with my visa, how do i fix ?

koenaba
#51266 // 8:11am

Fast response, got faulty key but they replaced it in less than a day


Daldain
#51265 // 7:24am

@maximelapointe9: Please check your emails.

maximelapointe9
#51264 // 1:37am

Hello i can't find my [Tabard of Flame] code in my purchase history, i got an email from you guys saying it should be there but unfortunately it is not

maximelapointe9
#51263 // 1:23am

I just made a payment to buy [Tabard of Flame] , it got rejected once, and rejected the second time but on my paypal the transaction has been thru, i just wanna be sure i didnt pay for 2 tabards of flame and not have one code

Daldain
#51262 // 11:25pm

@Targaryentv: Please check your emails.

@killayoungin: You took great sceenshots for us, good times.

Targaryentv
#51261 // 9:16pm

bought a item while not logged in where do I get the code

killayoungin
#51260 // 4:16am

Miss this website so much , I remember the days of spending all my coins here !! Funny to see that the main site picture is STILL the one I took all those years ago on top of orgrimmar haha <3 You guys! -Pandorox Dragonblight US

Daldain
#51259 // 9:04pm

@Neiara: Things are good here. In-game I have a lot of new content yet to see!

Daldain
#51258 // 9:02pm

@silesi: It is not straight forward. If the card is a foil type then it will work.

Neiara
#51254 // 12:01am

How is everyone?


silesi
#51253 // 9:05pm

Hello. I bought T.Chinese [Tabard of Flame] TCG card on Ebay, can i use it on Eu servers? HELP! THANKS

Daldain
#51251 // 10:54pm

@Zhorak: Nothing specific, cheapest sellers that ship loot cards worldwide.

Zhorak
#51250 // 3:43pm

Hi, the ebay articles you link to, are they people you are affiliated with or just random posts that you have found?

vighter
#51249 // 8:31am

@Albenesi1: yes it includes both. If you buy it on this website, you get the cd key through email

Albenesi1
#51248 // 3:42am

Does the Mists of Pandaria collection include the mount and the battle pet? How is it delivered?


Daldain
#51247 // 1:29am

@pollodorado1: We got your "contact" through our system, please check your emails.

pollodorado1
#51246 // 8:11pm

i have bought a mount but when i want to redeem my code it says that its invalid, what can i do?

socymlkira
#51245 // 6:49am

hey Does anyone want 2004 World of Warcraft Collector's Edition (Sealed)?

PortalStone4Sale
#51244 // 7:54pm

I'm sorry if this is stupid, but is it possible to sell loot cards we've found in booster packs? Or can we only buy here?

n3rd5tuf
#51243 // 11:17pm

@RCGator: that was one of mine...thank you! Enjoy the site as everything is provided to you by the best of the best sellers in the market.

RCGator
#51242 // 5:12pm

Just wanted to quickly say I bought a MoP collectors edition from you guys and received it with no issues!

will look at buying tcg stuff from you next thanks!!!

zhamme
#51241 // 7:07am

I dont have a phone number , it wont let me buy


StefanD89
#51240 // 3:31pm

Hello, If i want to sell a wotlk ce to you guys how much do you offer?

Daldain
#51239 // 3:45pm

@hereza: Please let us know via our contact system, supply your region and realm you are trying to redeem to.

@RCGator: Yes.


hereza
#51238 // 11:52am

Hello. I click on redeem button in my purchase history but when I click on redeem code on the the battle.net I get error "This code is not valid. Please verify your code and try again."
Loot News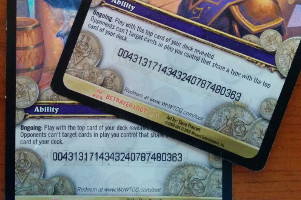 Another problem we face is shown in this photo of duplicate Goblin Weather Machine loot codes. Blizzard / UDE / Cryptozoic had quality control problems when batches of codes were reprinted, usually when boutique products such as Epic Collections or foreign language were made. The vast majority of affected cards were common loot, but we think that is simply because common loot was printed in far greater numbers than the other rarer loot.