Chat About WoW Loot

Daldain
#49626 // 2:47am

@Conanette: Yes, we are still active, not much news to report.

Conanette
#49625 // 10:16pm

Is this site still active? Not many news the last year.

Daldain
#49624 // 3:31pm

@zurich: This is a Blizzard bug, you will actually receive the Warlords CE item(s), please let us know if you have any concerns.

Daldain
#49623 // 3:26pm

@zurich: We are investigating, we'll email once we know. Thanks for your patience!

zurich
#49622 // 2:30pm

so i just bought the warlords collectors addition for $99, when i redeemed the code, it was for legion collectors... wtf.


Daldain
#49621 // 1:38am

@Estalia: Please use our contact system and supply the region and server you are trying to redeem to. We can do it for you and supply the in-game code.

Estalia
#49620 // 5:53pm

I have the same problem as phoenixica. I cant get the codes to work, it keeps saying the security code is invalid when i enter it correctly...

Daldain
#49619 // 3:35am

@doctorwho: Unfortunately the UDE program ended a few years ago. Unless you redeemed the points for items they are no longer usable.

doctorwho
#49618 // 1:28pm

Hi, guys! I have UDE point, what can I do with them?

Daldain
#49617 // 2:23am

@jhall37918: Working on it, please check your emails.

jhall37918
#49616 // 12:37am

The code for the [Magic Rooster Egg] i purchased is invalid according to the blizzard redemption page, what do i do? I've tried typing in the code manually, changing browsers, etc. with no luck


Bon
#49615 // 11:35pm

Heya guys

Do you still do random giveaways ?

Daldain
#49614 // 5:32pm

@spottrigger: Your PayPal went through fine as you know - although your direct card payment attempt was declined by your card issuer.

spottrigger
#49613 // 6:27am

My paypal / card payment keeps getting "DECLINED", and sometimes it says "you have cancelled your payment, your invoice can still pay". I don't quite understand what the issue is, since I have no issues with either my paypal nor my card. Any help would be much much appriciated.

Obi42O
#49612 // 3:03pm

Thank you very much for the instant service/help everything worked out great!

Daldain
#49611 // 2:46pm

@Nyankatz:. Please check your emails.

@Obi42O:. Ensure you are logged in with the browser your email client uses.

Obi42O
#49610 // 2:29pm

I just purchased 2x digital little stallion birdle codes how ever everytime I click on the Accept link in the email tells me to go back to the same link and will not give me my codes.

Nyankatz
#49609 // 2:15pm


ickleislands
#49608 // 2:31pm

Thanks for the rapid resolution! Cheers

ickleislands
#49607 // 9:26am

I just bought a code and when trying to redeem it, I get a message stating the code is not valid. What do I do now?

vighter
#49606 // 4:56am

@TopSmudge, please check the section Instant buy here:
https://www.wowtcgloot.com/faq.htm#buyworks

TopSmudge
#49605 // 3:52am

Could someone explain how purchasing a digital/instant delivery item works, really don't want to be 'scammed' or anything - i.e [Tabard of Flame] , Magic Rooster, etc.

Palace1551
#49604 // 6:19pm

Thank you for fast response - everything is working now. The toy is fun so thanks!

Daldain
#49603 // 5:54pm

@Palace1551:. We received your contact, please check your emails.

Palace1551
#49602 // 2:58pm

I just bought [Ogre Pinata] - but when i try to redeem the code it says "The following problems have occurred:
This code is not valid. Please verify your code and try again.". I've tried several times and always the same. Please can you help?

Daldain
#49601 // 5:56pm

@phoenixica: We have emailed you requesting your region+server, please let us know via email reply.

vighter
#49600 // 4:24pm

@phoenixica, no this isnt a scam. please contact the support if you encounter a problem with your code.

phoenixica
#49599 // 2:51pm

is this a scam website?


phoenixica
#49598 // 1:55pm

I cant get the codes to work, it keeps saying the security code is invalid when i enter it correctly

Gizeeh
#49597 // 3:04am

Thanks for the fast response
Loot News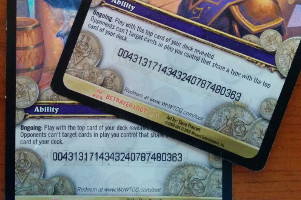 Another problem we face is shown in this photo of duplicate Goblin Weather Machine loot codes. Blizzard / UDE / Cryptozoic had quality control problems when batches of codes were reprinted, usually when boutique products such as Epic Collections or foreign language were made. The vast majority of affected cards were common loot, but we think that is simply because common loot was printed in far greater numbers than the other rarer loot.