Chat About WoW Loot

Maudites
#50062 // 2:45am

i think im gonna ruin my self in this site LOL

Daldain
#50061 // 1:47am

@Maudites: Please try again, and follow any instructions your card issuer provides.

Maudites
#50060 // 1:42am

i really want that item


Daldain
#50059 // 1:23am

@Maudites: It's a system that ensure your are fully authenticating payment - your card issuer supports it.

Maudites
#50058 // 1:08am

my payement failed reason : my payement didnt fully honor 3DSecure ? wtf is that ??

Maudites
#50057 // 11:44pm

im wondering if this website still working for the items ?? im interested to get [dark portal] !

mejn
#50056 // 7:05pm

So I bought [Flame Tabard] and when I claimed it with code it went to soulbound. That didn't happen with [Frost Tabard] . Wanted to sell Flame actually.. Is it like that on purpose or ?

Daldain
#50055 // 11:23pm

@Raelian:. How many names, genders, and countries can one person have?

Raelian
#50054 // 11:08pm

hello, apparently my other account was disabled and i'm unable to buy anything because I need to verify my phone but it's already being used by my other account.

Daldain
#50053 // 8:53pm

@jokerswild:. Please check your emails.

jokerswild
#50052 // 8:31pm

I am trying to buy flag of [ownership] it asked for a phone number all I have is a prepaid phone I believe that I bought off u before


frederdpx
#50051 // 5:32pm

its fixed


frederdpx
#50050 // 4:58pm


frederdpx
#50049 // 4:56pm

im retarded
But my code is not working

frederdpx
#50048 // 4:45pm

Im having some problems with a code, where do i find the contact system?


Slushice
#50047 // 5:40pm

Without doing anything different it seemed to work after the 6th try. Code worked fine, cheers.

Daldain
#50046 // 5:42pm

@Slushice:. You got it working, is there anything we should know?

Slushice
#50045 // 3:34pm

I'm unable to complete a purchase due to "Your payment has failed. Reason: Payment attempt did not fully honor 3DSecure."
I called both my bank and 3DSecure and they say the fault is not on their end. They say it's on the seller's end.
Anyway to solve this issue?

Daldain
#50044 // 3:54pm

@phocus: You are correct, not sure why Cricket Wireless is bundled under VoIP - there must be a slice of users who are under that. In any case please check your emails.

phocus
#50043 // 4:50am

and shouldnt the phone number verification only come up after the person chooses their payment method? If their payment method isnt bitcoin you can see where they live.... So its not a necessary feature... it just stopped me from giving you 80$


phocus
#50042 // 4:48am

I never knew spending 80$ with a company could be so hard


phocus
#50041 // 4:25am

I cannot authenticate my phone number because I have cricket wireless. It is the onyl phone I have.... Have had it for years... and have no other phone to authenticate with... and now im locked out

Daldain
#50040 // 8:40pm

@Rylisa: Please use our contact system and supply region + server, we'll replace if faulty.

Rylisa
#50039 // 8:18pm


Daldain
#50038 // 6:49pm


adamhinoz2101
#50037 // 5:47pm

can you just send a refund please thanks...


adamhinoz2101
#50036 // 5:43pm

an email stating "Please let us know if you continue to have difficulty." doesnt tell me how to fix this problem


Daldain
#50035 // 5:21pm

@adamhinoz2101: We sent you an email with extra information.

adamhinoz2101
#50034 // 4:41pm

and i cant resend it anymore......

adamhinoz2101
#50033 // 4:32pm

like i cant click the link for it to work and ive just spent $99
Loot News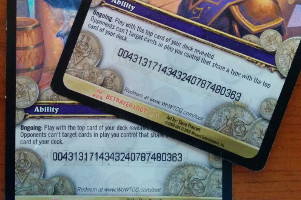 Another problem we face is shown in this photo of duplicate Goblin Weather Machine loot codes. Blizzard / UDE / Cryptozoic had quality control problems when batches of codes were reprinted, usually when boutique products such as Epic Collections or foreign language were made. The vast majority of affected cards were common loot, but we think that is simply because common loot was printed in far greater numbers than the other rarer loot.