Chat About WoW Loot

Daldain
#53193 // 6:45pm

@peridot: Sorry about that, we had to manually complete your payment.

peridot
#53192 // 8:05am

Apparently 3 hours & 32 minutes = instant. Received but did not expect the wait.

peridot
#53191 // 4:46am

I can send proof of payment, but at this point...32 minutes after ordering with still no instant code or email, i'm inclined to refute the purchase.


peridot
#53190 // 4:27am

no email or way to redeem via invoice history


Daldain
#53189 // 6:01pm

@AsmnBaldiny: Yes we are working. It appears your card issuer is asking to verify that you own the card being used. Your card issuer declined the payment, not us.

AsmnBaldiny
#53188 // 4:43pm

It even asked me for ssn and other info but the envoice is still declyned

AsmnBaldiny
#53187 // 4:41pm

I am trying to buy rooster egg but it declynes me.. This site is working atm?

Daldain
#53186 // 9:23pm

@cnoob:


cnoob
#53185 // 8:21pm


cnoob
#53184 // 8:19pm

but "couldnt validate code" ingame

cnoob
#53183 // 8:14pm

it worked now


cnoob
#53182 // 7:59pm

payment from paypal went through got the confirmation by paypal that it went through. tcg loot is saying it didnt went through

Daldain
#53181 // 1:34am

@Joycebecker48: Check your emails, your full loot codes are waiting for you in your Purchase History.

Joycebecker48
#53180 // 12:01am

Why your website declines payment while bank lets it off?

Daldain
#53179 // 7:43pm

@olsenrobin: We are legit, because we are! If we scammed for the last 12 years we would certainly be very famous for it

You will receive your full loot codes in your Purchase History with us upon successful payment. Yes, EU servers will accept these codes.

olsenrobin
#53178 // 11:22am

Hi! How can I verify that this page is legit and that I don't get scammed? Also, would like to know more about how digital codes are delivered and if I can use them on any server in EU.

n3rd5tuf
#53177 // 11:48pm

Blizzcon 2013 Murkalots Flail + other virtual gifts is on sale NOW!!!

Cely
#53176 // 12:02pm

I contacted the admin through the "contact" page at the bottom. Could someone please look at my email

thanks!

Cely
#53175 // 12:01pm


Daldain
#53174 // 9:07pm

@ollytcg: We can help you, please use our "contact" system

ollytcg
#53173 // 3:54pm

im trying to complete voice verification but i get told my number is a VOIP... however its not?

n3rd5tuf
#53172 // 5:09am


n3rd5tuf
#53171 // 5:08am


Daldain
#53170 // 6:18pm

@Guney67: Yes, you will receive a TCG card code for you to redeem yourself.

Guney67
#53169 // 6:09pm


Daldain
#53168 // 11:43pm

@Angelocolon33033: Look for the email in your PayPal email address.

Angelocolon33033
#53167 // 10:32pm


Daldain
#53166 // 6:28pm

@Yourboytravis: Just code, although we also have the original card.

Daldain
#53165 // 6:28pm

@sjansk: Use our contact system (bottom of webpage)

sjansk
#53164 // 5:35pm

Doe's anyone know if i can get som help? I just bought 2 tabards of the [flame] instead off 1

Loot News
10th June 2020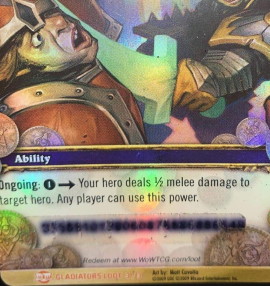 Here is another example of a unclaimed blurry code. If you manage to get this Foam Sword Rack code correct, let us know in chat here. Good luck!