Chat About WoW Loot

Prim3_HD
#51066 // 12:21am

I would like to buy [Tabard of Flame] but I am on EU servers and want to buy digital code. How does it work.

Daldain
#51065 // 3:33am

@venomenal: Usually PayPal only - but they also accept direct card.

@Dbsy: Our redeem button is very helpful when making the in-game code.

Dbsy
#51064 // 3:13am

no it's right code, i wrote is wrong by mistake

ty


Dbsy
#51063 // 3:03am


venomenal
#51062 // 3:31pm

im interested in a [spectral tiger] . when i purchase it by instant buy on ebay. what payment methods can i use? can i use paypal there ?

Daldain
#51061 // 1:28am

@xzeroamv: Please check your emails.

shine1br
#51060 // 9:03pm

@xzeroamv - not sure what your message means - use the contact link to send in your question and someone can help you.


xzeroamv
#51059 // 6:54am

so i did two purchases ; one of [gusting grimoire] and one of [sand scarab] , but somehow my purchase history made the Scarab to Grimoire, how that can be fixed ? Should i do screenshots for the purchases and whatnot?

mugisaud
#51058 // 2:28pm

I also have a landro's litchling that I would like to sell to the site, is that possible?


mugisaud
#51057 // 2:25pm

Hello I have a flag of [ownership] code that I would like to sell to the site or for in game gold


Daldain
#51056 // 2:43am

@Kongeda: Customers purchase the code (from a card) which then redeems for both the epic and rare [Spectral Tiger] .

Kongeda
#51055 // 2:00am


vighter
#51054 // 10:52am

@zacima: pink murloc wont ever be available again

zacima
#51053 // 1:09pm

me interest to buy [Spectral TIger] and Pink Murloc Egg, how long wait update in web site?

tplwater
#51052 // 9:57am

Are you interested to buy some loots. I have Fel Drake which I would like to get rid off.

Daldain
#51051 // 3:14pm

@Toprekk: Looks OK on our end?

Toprekk
#51050 // 2:57pm

Bitcoin link not working, any ideas?

snubs
#51049 // 8:42pm

so im having trouble buying large cards from you. cause my bank doesn't do 3dsecure properly with like passcodes etc. is there some way i can get around this or?


Incantations
#51048 // 10:54am


Daldain
#51047 // 4:35am

@khaledhamad: Please check your emails and Purchase History.

khaledhamad
#51046 // 3:35pm

i just ordered a talbard of [flame]
when will i be getting it?>

khaledhamad
#51045 // 3:34pm

hello


Doobious
#51044 // 7:18pm


Daldain
#51043 // 3:57pm

@Doobiously / Doobious: Please check your emails.

Mosa
#51039 // 3:57pm

the customer support on this site godly. thanks for being awesome. <3

shine1br
#51038 // 1:31pm

@bolderno - check your account history - if you cannot find the code in there use the CONTACT system and someone will get back to you shortly!

bolderno
#51037 // 11:31am

i just purchased " [The Flag of Ownership] ", where do i redeem the code? i didnt receive any code what so ever in my email.

Rickyyy_76
#51036 // 8:28am

is there any way to pay with paypal on mounts above 500$+

astokes
#51035 // 4:33pm

I've been good, life has gotten the best of me! Been in and out of the hospital very often.

How about yourself Steve? Still in SEA?

Daldain
#51034 // 5:45pm

@Keleseth:. Yes, replacement is usually more common
Loot News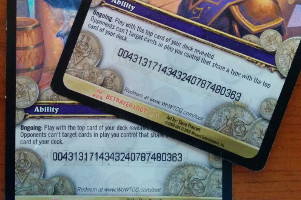 Another problem we face is shown in this photo of duplicate Goblin Weather Machine loot codes. Blizzard / UDE / Cryptozoic had quality control problems when batches of codes were reprinted, usually when boutique products such as Epic Collections or foreign language were made. The vast majority of affected cards were common loot, but we think that is simply because common loot was printed in far greater numbers than the other rarer loot.