Chat About WoW Loot

GamerPurchases
#53413 // 3:34am

@ItsRaaav
Nah. I thought that too at first (naturally skeptical of any transaction).
My first mistake was using a VPN. The payment went through but this website wouldn't say I bought it.
Admin easily fixes that.
Your browser MIGHT log you out after a purchase. Don't sweat it, log back in after closing/restarting your browser.

I'm about to buy ANOTHER item from. I've bought almost every toy listed here.
LOVE this place.

Daldain
#53412 // 8:07pm

It appears that WoW Classic will not be getting TCG loot redemption. Boo.

CE's appear to be getting some love however.

Daldain
#53411 // 3:57pm

@Federico: Sorry, not available at this time.

Federico
#53410 // 11:51pm

Hello, I would like to purchase a code for the Jewel of the Firelord if you have any!

ItsRaaav
#53409 // 4:00pm


Daldain
#53408 // 3:50pm

@ItsRaaav: Please check your emails.

ItsRaaav
#53404 // 4:25am

I bought A tabard of the red [flame] for 49 dollars on my acct called "Ravnyr" the order somehow got cancelled and it told me specifically not to create a dispute bc it would take along time for the refund, and then I tried to log in to chat and my username was disabled. I'm kinda freaked out thinking I'm scammed.

Daldain
#53403 // 6:44pm

@POU: Our contact system is a good start - we do deals through email initially.

POU
#53402 // 6:41pm

do you guys have discord or something that i can contact and talk ? need to talk for a deal if possible

Daldain
#53401 // 6:22pm

@POU: We are hoping to get more soon.

POU
#53400 // 5:54pm

hello sir i wantd to purchase another [ [spectral tiger] ] card but seems you dont have anymore ?! you guys will add more in stock or they are gone ?

Daldain
#53399 // 4:15pm

@THAAC: According to our records the [Sandbox Tiger] has not even been redeemed - please use the redeem button next to the code for correct process. As for [Mystic Runesaber] - please redeem code via BattleNet on a EU account. If you continue to have problems please use our contact system at bottom of page.

shreads
#53394 // 10:30pm

nvm i see it sorry


shreads
#53393 // 10:29pm

@daldain i did i see nothing in there


POU
#53392 // 9:41am

hello sir i wantd to purchase [spectral tiger] card but seems you dont have anymore ?! you guys will add more in stock or they are gone ?

Daldain
#53391 // 1:19am

@tbh157: We are not sure at this stage.

tbh157
#53390 // 9:18am

will tcg loot be avaible for tbc classic?

Daldain
#53389 // 6:43am

@shreads: Please check your emails.

shreads
#53388 // 2:51pm

i got some codes but they been redeemed already?

Sylvanas
#53387 // 6:54pm

Do you guys got discord ?

vighter
#53386 // 6:53pm


Sylvanas
#53385 // 11:27pm


Deretrox
#53384 // 10:09pm

Oooo thank you soo much guys!!!

fosky1991
#53383 // 6:29pm

I have the TCG woolly white rhinoceros mount in the game obtained and without learning the EU server, can I sell it here?


Daldain
#53382 // 4:51pm

@Papaysesay: Yes, all our wardrobe items can be transmog'd.

@iced5000: Your full loot code is waiting for you in your Purchase History with us.

@qow: Not sure, you need the code from the card.

Daldain
#53381 // 4:48pm

@Damianwow16: Please find your codes in your original "yoloboss04122" account. If you have trouble accessing please email/contact us.

Daldain
#53380 // 4:44pm

@Friskos: Please check your emails.

qow
#53379 // 12:33am

what can i do if i lost blizzcon card gift virtual of 2013,but i have photo of this?

iced5000
#53378 // 8:52pm

how do i write to support?


iced5000
#53377 // 8:51pm

Loot News
10th June 2020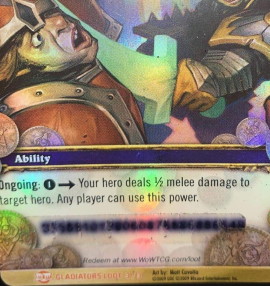 Here is another example of a unclaimed blurry code. If you manage to get this Foam Sword Rack code correct, let us know in chat here. Good luck!