Chat About WoW Loot

Daldain
#53944 // 11:41pm

To be clear, we sell in a Blizzard approved way.

Daldain
#53943 // 4:44pm

@christian32693: No, that is against the Blizzard ToS. Selling the in-game item (or in-game code) is allowed, but we don't do that.

themetamart
#53942 // 3:36pm

@TCGBruh we sell redeemable codes to be instantly used. The UDE Points and associated website have been closed for a very long time.

TCGbruh
#53941 // 2:24pm

Hey 2 questions!
1. Is the Tabard of [Void] UDE points or the code to be able to instantly redeem the tabard?
2. Is there anyone here with [Tabard of Brilliance] code?

christian32693
#53940 // 4:48am

Is there a way to purchase these codes with in-game gold?

Daldain
#53939 // 9:13pm

All, we have changed to a new card processor - it should be a smoother and more accepting experience.

Daldain
#53938 // 6:00pm

@taekuy: Unfortunately no, Blizzard did not release Korean codes for that expansion - please visit our sister website www.wowtcgloot.kr

@konstantinos: Yes, if you use our checkout.

@AitorMiller: Yes, we can supply photo of the original card, use our contactus page (see bottom of webpage) to confirm.

Daldain
#53937 // 5:59pm

Catching up on a few chats, here we go!

@MarioMoko: You will get the full code instantly when using our checkout, otherwise the card via eBay. Not against the ToS because you are using real-world money for a real-world code (no one has ever been banned for buying from us in all the 10+ years we have been doing this). All the toys and mounts will be account-wide - wardrobe items will be account transmoggable.

AitorMiller
#53936 // 2:35am

Hello, will the digital codes here provide a photo of the physical card? Because Taiwan server redeem needs this

n3rd5tuf
#53935 // 1:37pm

Im a merchant here with a [Spectral Tiger] code for sale. There is only one extra step needed to redeem it as the code is from a Blizzcon 2019 gift card. Price is $5795 -- contact admin for details, will not last long at this price!!!

konstantinos
#53934 // 10:11am


taekuy
#53933 // 2:46am

Hello, can I purchase Magic Chicken Egg on the Korean server?


MarioMoko
#53932 // 10:43am

Hello, I was thinking of buying a tabard so I got a few questions:
-do we get hard copy of card in mail or do we just get the code online
-is buying this against ToS
-when I redeem the items, is it account-wide or just for character

Best regards,

Daldain
#53931 // 9:21pm

@Fatal: If you are still having problems, please let us know via "contactus" at bottom of page.

Fatal
#53930 // 6:38pm

hi just bought a red [flame] of tabard and they code isnt working

Daldain
#53929 // 5:28pm

@Gnaarky: All fixed, it was your PayPal account that was unverified.

Gnaarky
#53928 // 7:50pm

tried to enter my payment information but it said card was already being used on another account?

Hamad1999
#53927 // 5:15am

Hi, i would like to buy more TGCs vbut it says that limit is reached so can i make a new account in the website and pay with payapl ?

vighter
#53926 // 3:23pm

@toaber, its cheaper here

Toaber
#53925 // 6:28am


kabbo
#53924 // 10:05pm


Daldain
#53923 // 9:56pm

@kabbo2397: Please check your emails (and log back into your original account).

kabbo2397
#53922 // 9:49pm

Hey, made an account and a purchase using paypal. Got some error - holding(idp) - then noticed I couldn't log into my account. No confirmation emails. Made a new account and here I am

Daldain
#53921 // 5:34pm

@nickgleason: Yes, we sell many [Big Blizzard Bear]s each day - they are all from original BlizzCon cards. No one has ever been banned from buying from us because we sell codes from cards (no in-game trading).

@Toaber: We have the biggest merchants selling here and on eBay.



Toaber
#53920 // 11:40am

Do you have an ebay account selling those or just on your page?

nickgleason
#53919 // 1:09am

Is the [big blizzard bear] for 450 legit? and can you get banned if you're caught buying from here?

Daldain
#53918 // 9:12pm

@mathalmir: It gets sent to your PayPal email address. We have now manually completed it for you, please check your emails.

mathalmir
#53917 // 6:29pm

How long does the authentication e-mail usually take to get? I have waited 30 min and still no e-mail...

Hamad1999
#53916 // 4:28am


dannzilla3
#53915 // 9:08pm

when do they restock mounts?
Loot News
10th June 2020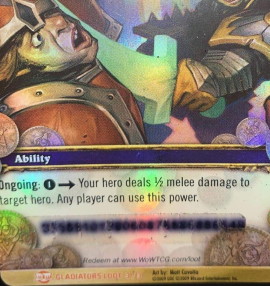 Here is another example of a unclaimed blurry code. If you manage to get this Foam Sword Rack code correct, let us know in chat here. Good luck!