Chat About WoW Loot

tristinheffner
#49507 // 12:30am

"Internet connection country does not match phone country."

tristinheffner
#49506 // 12:29am

I have a U.S. number but live in japan and cant buy anything because my internet service doesnt match my number.....

Daldain
#49505 // 8:13pm

@Humm: Mail is cheaper because of the delay in getting your card and potential across country border fees. If you have an unscratched card (i.e. by mail), yes you will receive both mounts.

Humm
#49504 // 10:30am

Hello, I'd like to ask two questions if you don't mind... First one is: why is the by mail so much cheaper and if I buy the swift [spectral tiger] on mail (card) do I still get both mounts?

Daldain
#49503 // 2:49am

@Jegh: Please check your email.

Jegh
#49502 // 5:40pm

Can someone help me?

)) 39$ gone no code. and my purchase history is just blank.

Jegh
#49501 // 5:32pm

Hey I just bought [Tabard of Flame] and when i got redirected it just went back to the cart and I wasnt given any code. The money is drawn from my bank account.

oORoshOo
#49500 // 12:55am

Never mind im dumb...Found it.

oORoshOo
#49499 // 12:53am

I have purchased a [Tabard of flame] digital code...Cant seem to find it...Could use some help.

empoleous
#49498 // 2:57pm

Everything is working 100%. Thanks fellas


Daldain
#49497 // 2:40pm

@empoleous: Looking now, use the contact system in future.

empoleous
#49496 // 1:47pm

Is there anyone I can contact to look into the matter


empoleous
#49495 // 1:45pm

I ordered a [foam sword rack] , and the code is saying "The following problems have occurred:
This code is not valid. Please verify your code and try again."

sargeras93
#49494 // 10:01am

okay I just found out, nvm


sargeras93
#49493 // 9:56am

hello, i bought 3 items (digital code) and paid them via paypal, now they are still in my shopping card, but payment got through, was charged on my paypal account, how do I receive the codes now?


Daldain
#49492 // 1:19am

@razielandkain69: Sometimes banks will have their VbV/MCSC service go down.

@NasserNeyadi: Please see Tamashi's post underneath yours.

razielandkain69
#49491 // 9:59pm

bought on here before now it says card not accepted any reasons why?


NasserNeyadi
#49490 // 7:50pm

hi i want to buy flag of ownar ship digital code anyone can tell me how the process will go


Tamashi
#49489 // 11:43pm

When you buy items on this website you'll be presented with the delivery option "Digital" and "postal Mail". Digital gives you the code instantly upon successful payment, a code will be given. Postal Mail costs more and would be shipped to you physically. If things haven't changed by now that is!


Daldain
#49488 // 7:55pm

@Ciyn: Not really because the codes are very limited and somewhat linked to BattleNet accounts.

@ brentlw: Instantly if you use our checkout.

brentlw
#49487 // 6:07pm


Ciyn
#49486 // 9:53pm

Any plans on adding the more recent blizzcon loot?

Tamashi
#49485 // 12:53am

Hey everybody


Daldain
#49484 // 3:36pm

@ Emil28T: Look for it in your Purchase History, the link is visible when you click your username on the top right of our website.

Emil28T
#49483 // 5:36am


Daldain
#49482 // 2:55pm

@mafiotzi: Please check your email, we replied to your contact.

mafiotzi
#49481 // 5:11pm

I just purchased a battle pet, received the mail and clicked the authorization. The item doesn't appear in my purchase history and I can'r redeem it. Any help?

barav
#49480 // 2:09pm

I want to buy the [big blizzard bear] but it says daily limit reached and I haven't ever bought anything

yeman
#49479 // 1:42pm


Daldain
#49478 // 4:08am

@erosgost: OK, please sure to use our contact system for quicker support, it'll also ask for region + server which helps us.
Loot News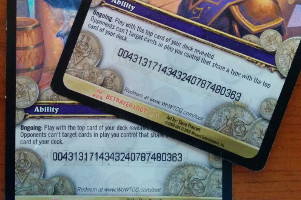 Another problem we face is shown in this photo of duplicate Goblin Weather Machine loot codes. Blizzard / UDE / Cryptozoic had quality control problems when batches of codes were reprinted, usually when boutique products such as Epic Collections or foreign language were made. The vast majority of affected cards were common loot, but we think that is simply because common loot was printed in far greater numbers than the other rarer loot.