Chat About WoW Loot

Daldain
#53574 // 11:28pm

@Bazeman1234: Please check your emails.

Bazeman1234
#53573 // 9:31pm

and i havent used it on sageras

Bazeman1234
#53572 // 9:22pm

how come i just bought a [tabard of flame] , and when i try to type in the code, it says that it already has been used on sageras eu when i put it on twisting nether eu??

megaalsana
#53571 // 11:03pm

Hey i was wondering if wowtcgloot buy item to vendors or give you the option to sell tcg mounts ? ty


Daldain
#53570 // 8:40pm

@FredManTheCat: We have some in inventory right now, can you see them?

FredManTheCat
#53569 // 6:02pm

Hi! I just had a general question about the 2019 blizzcon virtual ticket ( [Finduin] /gilvanis pet) . Do you have any idea if there will be any more of these in available any time soon? i tried contacting one of the people on ebay that were selling but have had no luck getting a response.

Daldain
#53568 // 3:37pm

@Lorothar: That's exactly right.

Lorothar
#53567 // 2:08pm

@Daldain So when i buy the digital code here for 499 dollar, I get a link to the promotional website and the code, and then I generate the loot code for ingame redeeming myself?

isobiths
#53566 // 1:14pm

@SeemsLegit throw me a mail at shootthepianist2003@yahoo.gr

Daldain
#53565 // 2:34am

@Lorothar: You will receive a loot code that you will put through the Blizzard Legacy promotional website (we supply you a handy link next to your code) to get your new in-game code. For older BlizzCon loot like the [Blizzard Bear] you will take that new in-game code to Forlorn Cavern in Ironforge (alliance) or Valley of Honor, Orgrimmar (horde). It is not tradeable in-game.

sintus1234
#53564 // 7:35pm

world of warcraft


Lorothar
#53563 // 12:43pm

Hey, I am looking into buying the Blizzcoin Bear. Will this also come as a Lootcode that I redeem in Boty Bay or where will I have to redeem it? Also, is it tradeable ingame?

SeemsLegit
#53562 // 1:46am

@Daldain ah okay thank you for clarifying

Daldain
#53561 // 1:27am

@SeemsLegit: You need to sell/trade in-game with in-game currency only.

SeemsLegit
#53560 // 11:37pm

Hi, I am looking to sell a [spectral tiger] mount (not swift) that I have in game still in a character's inventory (not for gold) if that's possible. It was received from a Landro's loot card (which apparently is surprisingly rare).

Daldain
#53559 // 8:53pm

@toxicboss1127256: Please check your emails.

toxicboss1127256
#53558 // 8:24pm

The code I got for a mount keeps saying that it's invalid even tho I copy and paste it into the redem website


vighter
#53557 // 7:33am

The [riding Turtle] is not Tradeable. You have to gift the code to your friend

elizaso
#53556 // 7:02am


Daldain
#53555 // 12:09am

@sammyyoyo: Please check your emails.

sammyyoyo
#53554 // 10:55pm

Had wrong e-mail adress on Paypal so I did not get the code, was about to buy another one as I've now updated my email on Paypal, but I can't checout. i'll only get to the page where I came after the order was placed. It says "Pending Authorization", anyway to remove that so I can order a new item?


themetamart
#53553 // 9:03pm

For a limited time, we have a batch of Blizzard Store Mounts priced cheaper than even their best sale price. Inventory is limited so act fast!

Daldain
#53552 // 5:11pm

@jonassen225gmai: ATM, only CE (vanilla, BC) are shared across retail & classic.

jonassen225gmai
#53551 // 9:21am

How can I get the things I buy on this page on my TBC-classic char?

jeabm
#53550 // 3:45am

yes it works now, thanks!

Daldain
#53549 // 2:15am

@All: This is due to maintenance - the problem should be resolved by now.

talaq7
#53548 // 9:39pm

i try many time and only got this : Error ID: ZC44H can any body explain ?


talaq7
#53547 // 7:09pm


jeabm
#53546 // 6:11pm

Same here, I bought a mount and the code says unknown error occurred and i tried multiple times

Skindeck
#53545 // 6:06pm

I bought two items today, and when I try to redeem them I get "An unknown error occured! Something has gone wrong! Sorry!

Error ID: 7SYK5" Please help!
Loot News
10th June 2020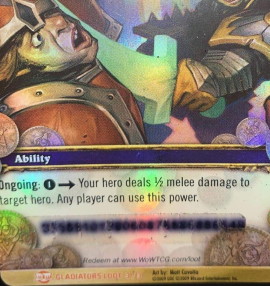 Here is another example of a unclaimed blurry code. If you manage to get this Foam Sword Rack code correct, let us know in chat here. Good luck!