Chat About WoW Loot

soo940530
#52659 // 6:25am

I tried to make the payment with credit card, but it's not working..


soo940530
#52658 // 6:25am

The card transaction is not working.

Daldain
#52657 // 12:35am

@Nibh: We do not have representatives outside of this website - avoid anyone in-game representing as such. Feel free to reply to our email to continue conversation.

Nibh
#52656 // 12:16am

@Daldain, whats your discord?

Daldain
#52655 // 11:59pm

@Nibh: Use our contact section - link at bottom of page.

Nibh
#52654 // 11:16pm

Need to speak with a admin asap

seanjwallmueller
#52653 // 4:30pm


Daldain
#52652 // 4:27pm

@seanjwallmueller: We are looking into it now, we'll email once we know.

seanjwallmueller
#52651 // 4:21pm

Just tried redeeming a [big blizzard bear] on EU - Darkmoon faire RP and didnt work, could it have been a code for something else? Or a code already redeemed?

Daldain
#52650 // 4:05pm

@Numantia: Goodwill allows you to spend above normal spend limits.

@Gwans: www.wowtcgloot.kr is our new Korean only loot website, thanks for asking! Please use it if you play on Korean servers. www.wowtcgloot.com (here) is for US/EU codes.

@Dobs: Please follow your card issuer instructions (if any) during payment process. Otherwise you may need to contact them to unlock for overseas transactions.

Dobs
#52649 // 3:20pm


Disenchanted7
#52648 // 10:57am

Hey I just noticed the [gusting grimoire] has gone up in price by a dollar. Do prices fluctuate or is it going to be this price for a long time?

thanks if you can help,
Matthew

Gwans
#52647 // 4:44am


Hello. I am a Korean user.
There is a dedicated server for Korean users called https://www.wowtcgloot.kr.
Can I use this site?
Is it related to the site https://www.wowtcgloot.com?

Numantia
#52646 // 10:05pm

hello
can someone explain me how goodwill works ?

Daldain
#52645 // 5:53pm

@Wagnawos: Please check your emails.

@Bugsy: Welcome, and enjoy


Bugsy
#52644 // 5:36pm

Just bought the [tabard of flame] and got the code instantly!! Was a little nervous but it worked out great

very pleased with this site.

Wagnawos
#52643 // 7:22am

How do i sell on this website?


nick
#52642 // 4:14am

ooh


T1mrod
#52641 // 12:31am

sorry my fault it worked fine, i just was too nervous

Daldain
#52640 // 6:56pm

@T1mrod: Please use our contact system at bottom of webpage.

T1mrod
#52639 // 6:51pm


Daldain
#52638 // 4:40pm

@lehorse: Please check your emails.

@patrezak: No one has claimed to have redeemed the code.

lehorse
#52637 // 2:46pm

I bought one [Landros gift] for 250? why am i being charged TWO times for over 400?

patrezak
#52636 // 9:56am

Hey, Hello want to ask, was [Foam Sword Rack] blurry code , the one you have in loot news, already claimed or not yet?

Daldain
#52635 // 6:37pm

@T1mrod: Yes, EU is for Russian servers.

T1mrod
#52634 // 3:53pm

can i use EU code on russian server?

Daldain
#52633 // 2:21pm

@ Malir: Please check your email

Malir
#52632 // 10:44am

i sent a request, I hope that one answers me quickly


Malir
#52631 // 9:49am

hello, can a moderator help me? I bought a code for a " [tiny] mount" 15 minutes ago, and on the site for the code, it says it has already been used on an American server !

Joel5963
#52630 // 5:32am

Loot News
10th June 2020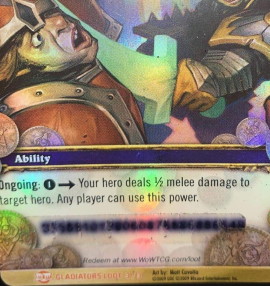 Here is another example of a unclaimed blurry code. If you manage to get this Foam Sword Rack code correct, let us know in chat here. Good luck!