Chat About WoW Loot

rekerap
#49754 // 1:54pm

nvm, got it now, first time buying here


rekerap
#49753 // 12:26pm

Hey, i just bought landros lich ling and the code is invalid, please help


nick
#49752 // 7:47am

I just got out of the hospital! SO GLAD TO BE FREE! Just had naother heart surgery


wilhelmqt
#49751 // 4:50am


Daldain
#49750 // 10:31pm

@Cheebz: Please use our contact system, that way you can supply us with your region and realm.

Yasin
#49749 // 10:03pm


Cheebz
#49748 // 9:20am


Crapais
#49747 // 8:44pm

Hi Daldain,
Thanks, Code succesfuly redeemed


Daldain
#49746 // 8:36pm

@ Crapais: Confirmed, please check your emails.

Crapais
#49745 // 8:07pm

Hello. The last code I purchased seems to be invalid.

Tamashi
#49744 // 9:21am


Tamashi
#49743 // 9:21am

The days when every 1000 or so there was a giveaway


Tamashi
#49742 // 9:21am

50k messages gfiveaway?!


nick
#49741 // 1:16am

Any luck finding that old code in the history?

Daldain
#49740 // 8:10pm


shinsoeu
#49739 // 6:56pm

Sorry, disregard my previous message, everything is fine. Awesome services!

shinsoeu
#49738 // 6:34pm

So how do I receive the code for the item I purchased?


Daldain
#49737 // 4:16am

@Arkenaw: We cannot see a problem, please let us know if we have missed anything.

@Mythos: Please check your emails.

Arkenaw
#49736 // 3:13am

Hi, I purchased [Landro's gift box] but the item does not show up as purchased and it is still in my cart

Mythos
#49735 // 4:26pm

Hello. Account name mythos. The last code I purchased seems to be invalid.

Daldain
#49734 // 6:22pm

@luiskosne: Please check your emails.

@trunex: Not quite that simple. Newer foil loot cards from China will work.

trunex
#49733 // 3:15pm

@daldain so the codes from chinese cards work on EU servers?

luiskosne
#49732 // 2:59pm

hello, i have a problem i think i have 2 accounts here and i buy a ítem for the name account: kosne, but i cant enter in this account now the page tell me username disabled, if any can help me please?

Daldain
#49731 // 12:39am

@Kuzahftw: Yes, please check your emails.

Kuzahftw
#49730 // 8:59pm

Good evening, I did a payment and it was succeeded but no other mail appeared, could you please send it? Thanks in advance!


Daldain
#49729 // 3:34am

@volvoxaureus: Yes, EU + US.

nick
#49728 // 6:58am

BGarica, suggest it via the the Contact page.

volvoxaureus
#49727 // 2:03pm

as i understand these codes work in EU too ? beside US


trunex
#49726 // 4:50am

Hi guys, is it possible to redeem chinese tcg loot codes for european servers? I have a seller claiming it is possible and want some insight. Thanks

bgarcia
#49725 // 10:54am

I see you still cant use bitcoin

Loot News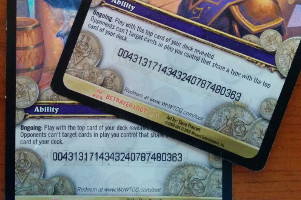 Another problem we face is shown in this photo of duplicate Goblin Weather Machine loot codes. Blizzard / UDE / Cryptozoic had quality control problems when batches of codes were reprinted, usually when boutique products such as Epic Collections or foreign language were made. The vast majority of affected cards were common loot, but we think that is simply because common loot was printed in far greater numbers than the other rarer loot.