Chat About WoW Loot

Reigon
#54363 // 11:08pm

I got my hands on a [spectral kitten] (French version/unscratched) and I was wondering where I should try to sell it

Daldain
#54362 // 7:08pm

@lullaby: Please check your emails.

lullaby
#54361 // 9:38pm

so i bought an item but it was accidentally done to eu, is there any way to reverse with or a refund or transfer it to us? i havent redeemed it on eu


Daldain
#54360 // 11:54pm

@4shopper: It means those servers are broken at Landro (and other redeeming NPC's). Redeem your loot on other servers instead.

4shopper
#54359 // 5:14pm

REDEMPTION ALERT: Landro in Booty Bay is not dispensing loot items on
US Servers: Ghostlands, Gul'dan, Black Dragonflight, Kael'thas, Skullcrusher, Windrunner.
EU Servers: Aerie Peak, Bronzebeard, Darkmoon-faire.
Please choose another redemption server instead. whats that mean any body can explain to me

Daldain
#54358 // 9:14pm

@Caleb409: Thanks for letting us know, all fixed. Please check your emails.

Caleb409
#54357 // 7:42pm

Hello guys.

So i bought the [Epic purple shirt] digital code for 199$ and i've been checking my email and phone for 4 and a half hours but i have not got anything resembling the code. And when i check my purchase history it shows up empty even though my bank account is in fact down 200$ so im pretty sure the payment went through. So does anyone know what is going on

Man9oori
#54356 // 3:55pm

nvm am pepega i got it now

Man9oori
#54355 // 3:51pm

@Daldain ?


Man9oori
#54354 // 3:51pm

I tried redeeming it on battlenet but aint working any wowtcgloot staff can assist with the matter


Man9oori
#54353 // 3:48pm

hey i purchased a pet but the code isnt working any clue why?

Daldain
#54352 // 1:28am

@osimu: I couldn't quite translate what you are asking...

osimu
#54351 // 4:45am

segun lo que vi no cuesta mucho la verdad como menos de 50 euros, porque lo que sale son cosas de cargas, si es verdad que existe una posibilidad, en tu casa miiiiiiniiiimaaa de que te salga una montura al azar pero para eso la gente se compra y paga una montura, como yo por ejemplo que por el oso de batlla grande pague 300 euros, pues lo mismo, la vendes?

Daldain
#54350 // 4:33pm

@Hunter6969: Your full loot code has been waiting for you in your Purchase History with us as soon as you finished payment.

VNRicky092
#54349 // 5:50am

@Hunter6969 as long your payment is verify you get the code


Hunter6969
#54348 // 2:12am

how long does digital delivery take?


TCGPalmar
#54347 // 3:50am


vighter
#54346 // 7:59am

@lykargy94gmail: you get it by Email when you select digital delivery

lykargy94gmail
#54345 // 12:59am

Quick question, if I was to buy the Murkadin pet, would the code just be sent to me via email right after purchase?

kazamuel
#54344 // 12:43am

@Daldain If you're staff could you check my support ticket? I need to retry my verification for my phone once more, I did an oopsie and never saw it pop up so it locked me out lol

Kreador
#54343 // 5:25am

got a code and bliz website is saying code is not valid. tried mutiple times


Daldain
#54342 // 1:21am

@skyworthy: Thanks, you are correct, you get given an unused code ready to redeem.



skyworthy
#54341 // 9:20pm

@Danielfireman2 Yup. they give you a link to the redeem website that automatically puts in the code, and then you tell it what realm you want to redeem the code on.

Danielfireman2
#54340 // 8:57pm

so if i buy an item ill get to redeem a code?


skyworthy
#54339 // 8:51pm

@TCGPalmar I'd probably switch realms on that character, just to sell the rocket

TCGPalmar
#54338 // 12:05am

Trying to sell a [X-51 Nether-Rocket X-TREME] I used the code in booty bay and have item to sell. Can someone help me sell it. im on a dead realm


Daldain
#54337 // 2:10am

@skyworthy: Yes, we have some unused codes ready to redeem onto your server. They were saved from a long time ago.

skyworthy
#54336 // 1:31am

How does buying the [Carved Ogre Idol] work, when it was a UDE point reward? Do you just have some codes ready to go for redeeming on the wow website?

merlinlemagicien
#54335 // 8:40pm

@Daldain
Just sent you a mail through the contact form, please forgive my english as i'm not a native speaker

Daldain
#54334 // 8:28pm

@merlinlemagicien: Yes, that is a different scenario. We obviously cannot authenticate every seller / item on eBay, but we do know the most popular sellers on eBay if you want to use our contact link on bottom of page to confirm.
Loot News
10th June 2020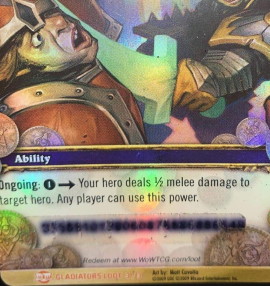 Here is another example of a unclaimed blurry code. If you manage to get this Foam Sword Rack code correct, let us know in chat here. Good luck!