WoWTCGLoot.com
is the authorative and informative loot code source for the Warcraft TCG. Buy loot codes instantly from the original retailer. WoWTCGLoot.com provides access to the full range of
Mount
,
Pet
,
Toy
,
Tabard
, and every
Other
loot codes from the fantastic range of WoW TCG Expansion products.
Latest News
November 10, 2014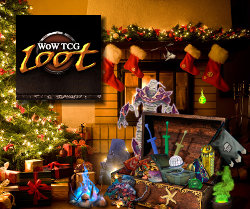 Ever wanted to see us do a giveaway worth over $5000? Right now, we are hosting an epic giveaway unlike anything we have ever done to celebrate the newly released in-game Toy Box. From Oct. 14th to the end of the festive holiday season on 1st Jan. 2015, any website store purchase of Toy Loot will be worth a raffle ticket value, and at the end of the promotion raffle tickets will be totalled up and randomly selected tickets will be chosen at random for prizes. See our special giveaway page for more information.
Also newsworthy is Blizzard finally fixing the redemption problem caused by server merges and backend changes. Oceanic servers will continue to function under the US region group.
Stay tuned for more updates before the end of the year.
Latest Loot Cards
All the latest Loot cards hot off the press
Gusting Grimoire
Binds when picked up

Use: Teaches you how to summon this companion.

Dark Portal
Binds when picked up

Use: Returns you to <Hearthstone Location>. Speak to an Innkeeper in a different place to change your home location. (30 Min Cooldown)




"BEHOLD, THE DARK PORTAL. Well, a tiny version, at any rate."

Ghastly Charger's Skull
Unique
Mount

(Account-wide)

Use: Teaches you how to summon this mount. This is a flying mount.


Requires Level 20
Requires Apprentice Riding
Best Buys
The current hottest buys
Goblin Weather Machine - Prototype 01-B
Binds when picked up

Use: Right Click to activate your Personal Weather Maker. (30 Secs Cooldown)

Papa Hummel's Old-Fashioned Pet Biscuit
Binds when picked up

Use: Doubles a targeted Non-Combat Pet's size for as long as it remains at its master's side.

Nightsaber Cub
Binds when picked up
Unique

Use: Teaches you how to summon this companion.