Latest News
March 3, 2013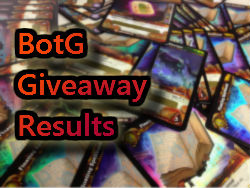 Our giveaway has been drawn, listed below are the winners whom have also been notified by email:
Those who have pre-ordered should have their codes waiting for them in their account Purchase History, if not please "contact" us. Everyone is still waiting to redeem their "BotG" loot as it requires Blizzard to release patch 5.2, but it appears we are in the final stages and perhaps as early as 5th of March. Let's hope that the next and future expansions have its loot available in-game upon release as normal.
Finally, we have started accepting Bitcoin as payments for all our digital codes.
Latest Loot Cards
All the latest Loot cards hot off the press
Gusting Grimoire
Binds when picked up

Use: Teaches you how to summon this companion.

Dark Portal
Binds when picked up

Use: Returns you to <Hearthstone Location>. Speak to an Innkeeper in a different place to change your home location. (30 Min Cooldown)




"BEHOLD, THE DARK PORTAL. Well, a tiny version, at any rate."

Ghastly Charger's Skull
Unique
Mount

(Account-wide)

Use: Teaches you how to summon this mount. This is a flying mount.


Requires Level 20
Requires Apprentice Riding
Best Buys
The current hottest buys
Path of Cenarius
Binds when picked up

Use: Leaves flowers in your wake for 5 min.

Banana Charm
Binds when picked up

Use: Teaches you how to summon this companion.

Reins of the Swift Spectral Tiger
Unique
Mount
Requires Level 40
Requires Journeyman Riding
Item Level 40

Use: Teaches you how to summon this mount.

Sandbox Tiger
Binds when picked up

Use: Summons a stationary Sandbox Tiger ride for 3 min. (3 Min Cooldown)