Stormwinds Champion's War Banner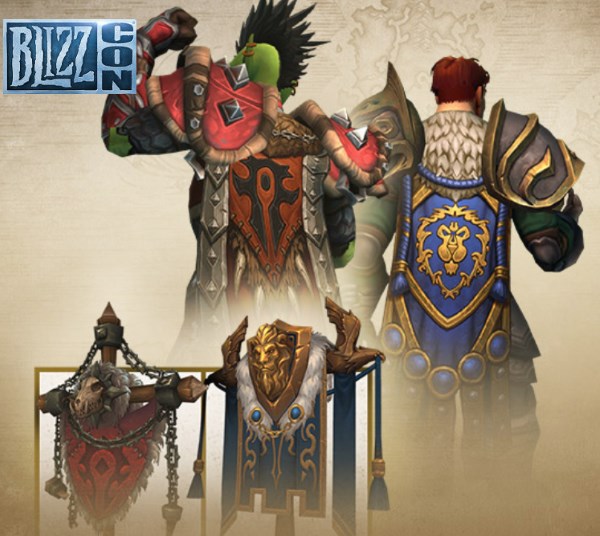 Stormwinds Champion's War Banner
Binds when picked up


Toy


Requires any Alliance race

Use: Plant a Stormwind Champion's War Banner.





For the Alliance! (1 Min Cooldown)
Orgrimmar Hero's War Banner
Binds when picked up


Toy


Requires any Horde race

Use: Plant a Orgrimmar Hero's War Banner.





For the Horde! (1 Min Cooldown)
War Mantle of the Alliance
Binds when picked up
Back
War Mantle of the Horde
Binds when picked up
Back
---
Stormwinds Champion's War Banner
Binds when picked up


Toy


Requires any Alliance race

Use: Plant a Stormwind Champion's War Banner.





For the Alliance! (1 Min Cooldown)
Orgrimmar Hero's War Banner
Binds when picked up


Toy


Requires any Horde race

Use: Plant a Orgrimmar Hero's War Banner.





For the Horde! (1 Min Cooldown)
War Mantle of the Alliance
Binds when picked up
Back
War Mantle of the Horde
Binds when picked up
Back
Game Facts:
Receive both "Stormwinds Champion's War Banner" and "Orgrimmar Hero's War Banner" in your account characters Toy tab upon redemption.
Receive both "War Mantle of the Alliance" and "War Mantle of the Horde" cape in your account characters Wardrobe tab upon redemption.
Unlocks the "Flying Colors" Feat of Strength achievement.
When redeemed, counts towards all Toy and Wardrobe collection achievements.
Rarity:
30,000 printed
Distribution:
BlizzCon 2018
---