War Party Hitching Post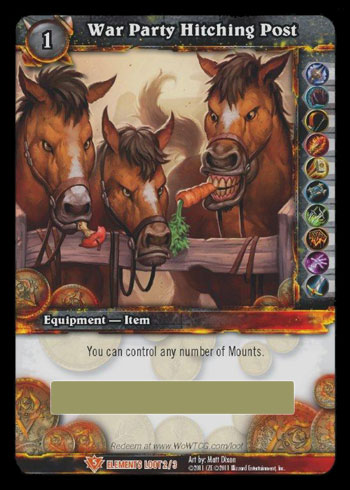 War Party Hitching Post
Binds when picked up

Use: Right Click to build a War Party Hitching Post.





Party or raid members with at least Apprentice Riding may use the post to summon a Hitch Horse mount. (30 Min Cooldown)
---
War Party Hitching Post
Binds when picked up

Use: Right Click to build a War Party Hitching Post.





Party or raid members with at least Apprentice Riding may use the post to summon a Hitch Horse mount. (30 Min Cooldown)
Game Facts:
Summons a hitching post that character, party, or raid members can use to summon horse mount.
Mount automatically adjusts speed to your highest land riding skill.
Mount lasts until any dismount.
Hitching Post lasts 3 minutes, has 30 minute cooldown.
Riding skill required to use mount, therefore minimum level 20.
Expansion:
War of the Elements
Card:
War Party Hitching Post
Rarity:
1/132 booster packs
Distribution:
War of the Elements
booster boxes contain 24 boosters and cost approx $50 USD (inc. shipping), therefore the average cost of obtaining this particular loot with random chance is $275.00
---